ULSTER DEANERY RESPECT LIFE COMMITTEE,
Port Ewen-Esopus, New York
www.ulsterdeaneryrespectlife.org
PRESS RELEASE (for Immediate Release)
INTOLERANCE FLARES IN ESOPUS AS PRO-LIFE BILLBOARD OF THE ULSTER DEANERY RESPECT LIFE COMMITTEE ON ROUTE 9W IS VANDALIZED AGAIN
Nov. 14, 2022 (Esopus, New York) - In the wake of an emotionally charged period of elections, a grim discovery was made on the afternoon of November 14 of deplatforming the peaceful expression of free speech and a pro-life message via the vandalism and destruction of a pro-life billboard placed on the southbound side of Route 9W at Esopus. The picture of the tattered remains of the billboard along with pro-abortion graffiti is attached.
Fr. Arthur Rojas, the Moderator and Spiritual Director of the Ulster Deanery Respect Life Committee, which coordinates efforts by local Catholics and allies for the pro-life cause in Ulster County (www.ulsterdeaneryrespectlife.org), made the discovery as he drove northbound on Route 9W this afternoon. Upon seeing the tattered, wretched remains of the pro-life poster on the billboard, at once he went over to take pictures of the scene and to contact the Ulster County Sheriff's Office, which sent a deputy to meet Fr. Rojas and to commence the investigation.
"This is the second incident of attempted intimidation and silencing of the local pro-life voice in Esopus," stated Fr. Rojas. He added, "We are grateful for the professionalism shown by the Ulster County Sheriff's Office as we seek a thorough investigation into the matter, which itself casts a shadow on freedom of expression and democratic debate in our community."
As with the first incident of vandalism in June 2022, the Moderator of the Ulster Deanery Respect Life Committee promised that the Committee would not flinch from renewing the poster on the billboard as part of the Committee's peaceful, prayerful, and persistent pro-life advocacy. "We are neither intimidated nor we will be silenced. This attack demonstrates that our billboard is touching consciences and raising awareness. The pro-life billboard is exactly where it should be and it will stay there.," declared Fr. Rojas.
The Ulster Deanery Respect Life Committee is composed of affiliates from various Catholic parishes and groups in Ulster County. The Committee is also working with the local Bruderhof on pro-life issues of mutual concord.
---------------------------------------------------------------------------------
* Below is a link of the article on the Ulster Deanery Respect Life Committee and the billboard incident on page 22 of the latest issue of "Catholic New York".*
Pro-Life Billboards Vandalized in Esopus.
* Below is a link to an article on the billboard incident in the Kingston Daily Freeman.*
Anti-abortion billboards vandalized on Route 9W.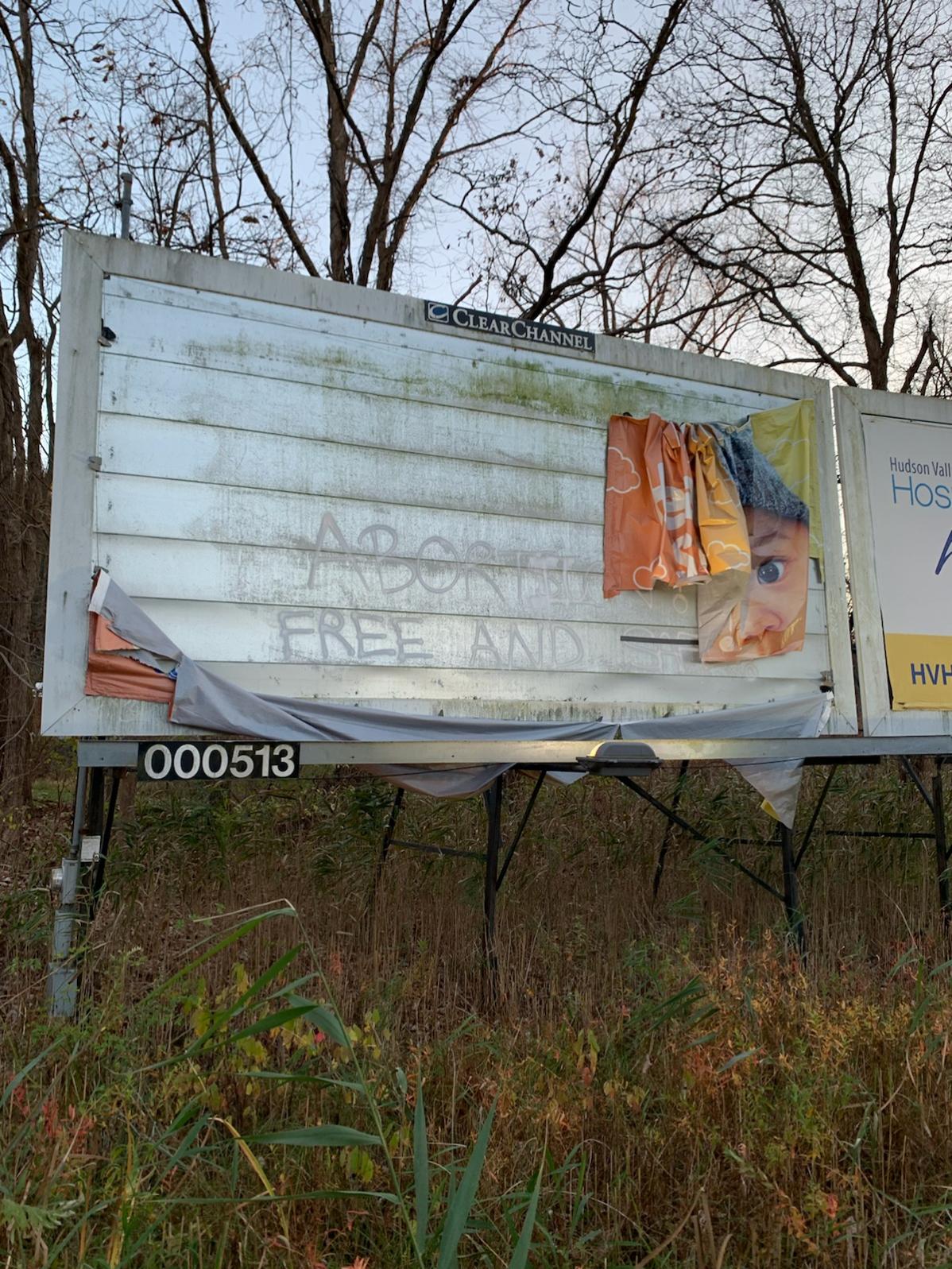 October 21st, 2022
Ulster Deanery respect Life Dinner
October 2nd, 2022
Life Chains Throughout Ulster County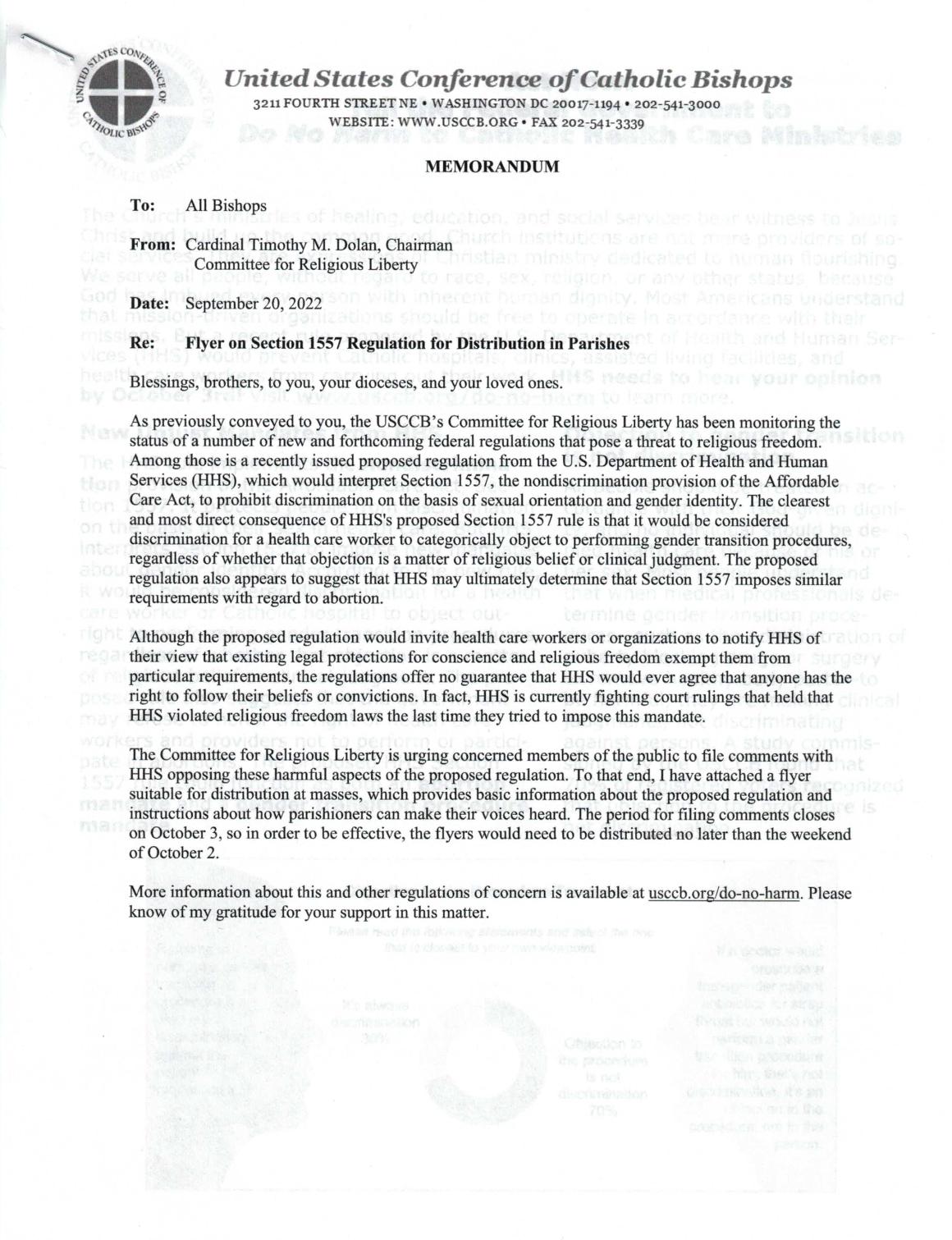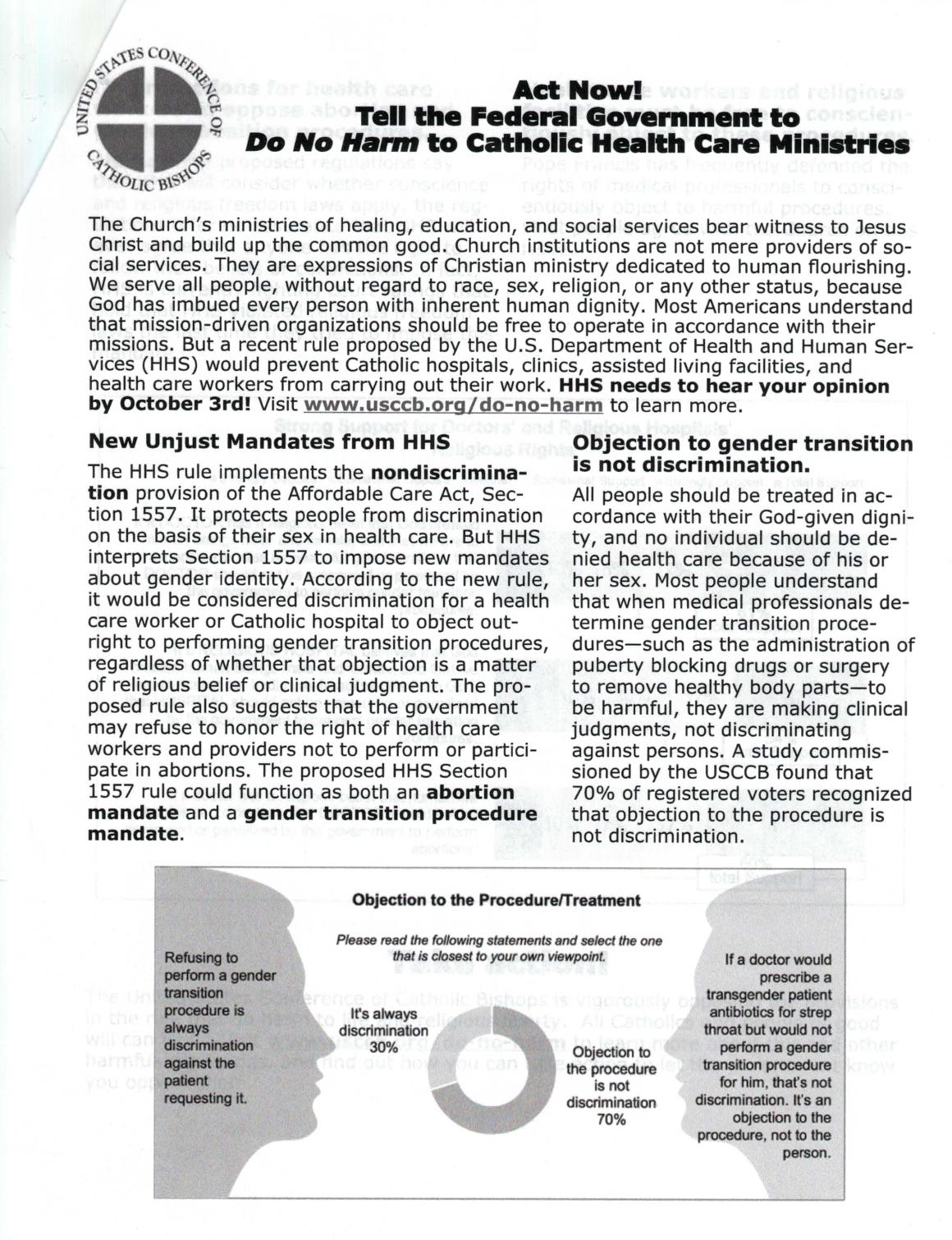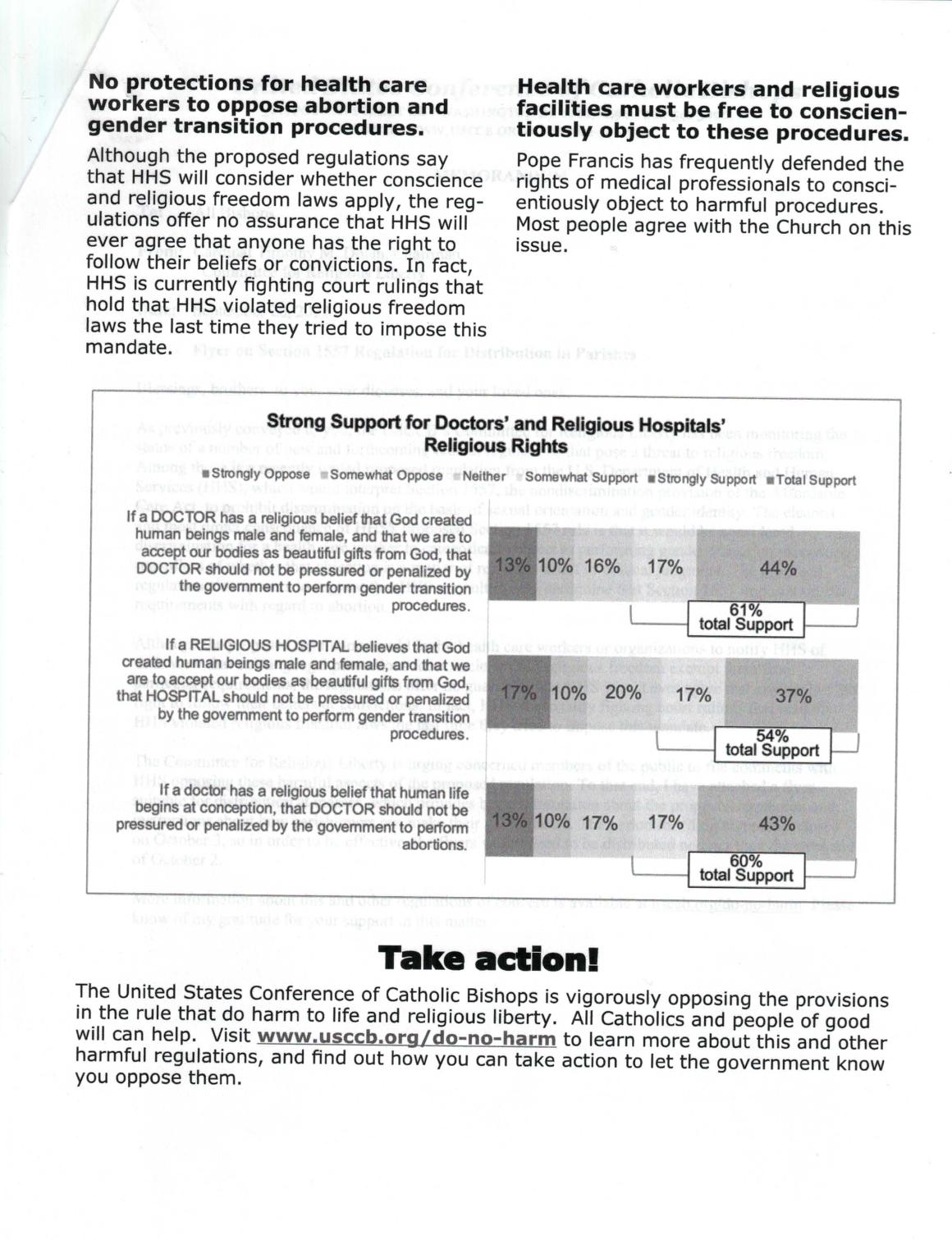 Our booth at the Ellenville Blueberry Festival - 08/13/22 - 9AM to 4PM. Almighty God blessed us with a beautiful day and a busy street in Ellenville, NY. Thanks be to God.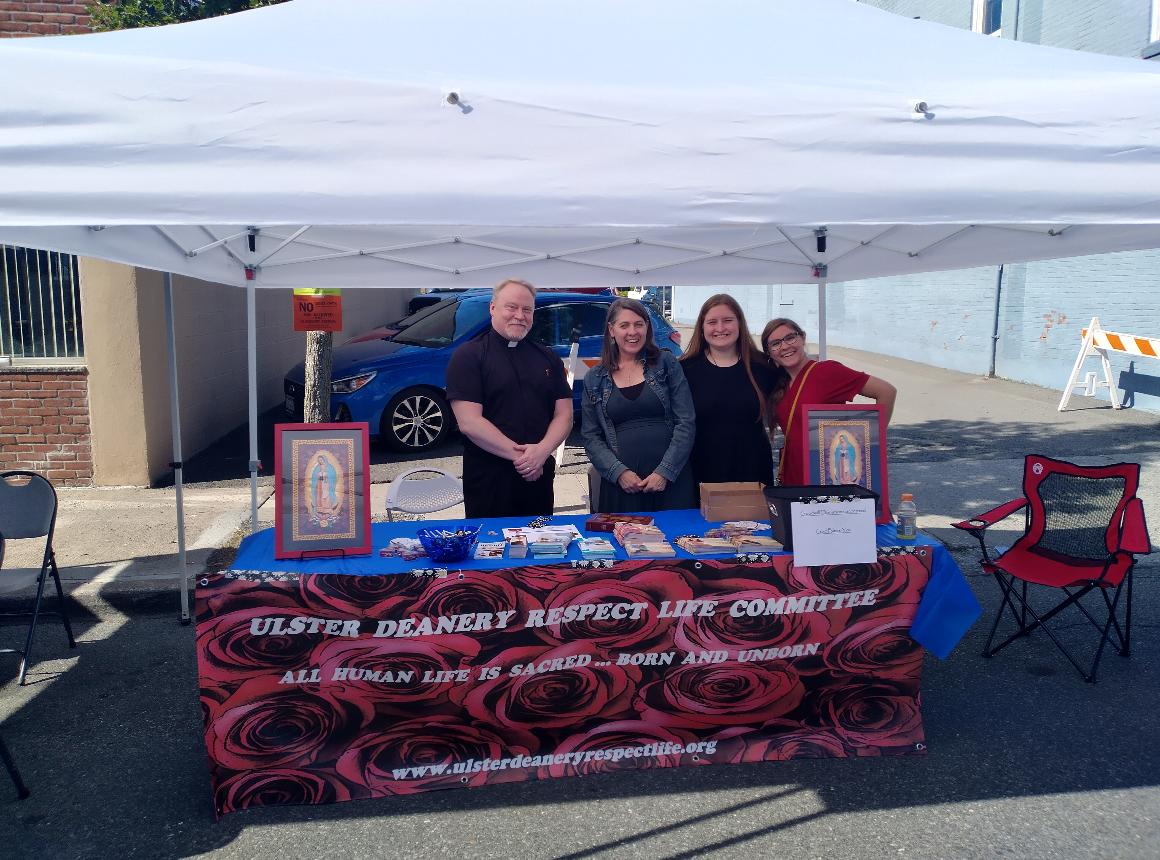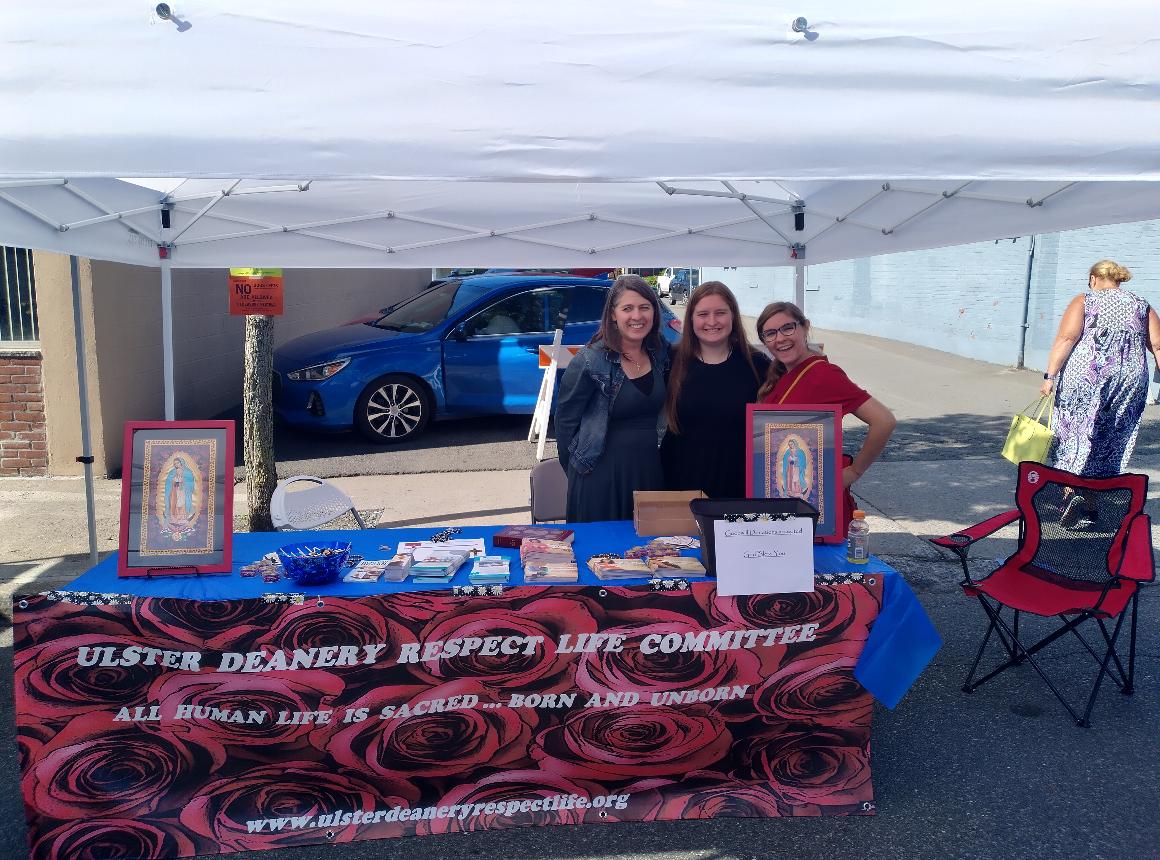 ALLELUIA!
US SUPREME COURT
OVERTURNS
ROE v. WADE - 6 tO 3!
With new hope we pray and persevere for the Pro-Life cause in New York State and Ulster County. We welcome the cooperation of all people of good will.
Happy Feast Day of The Sacred Heart of Jesus.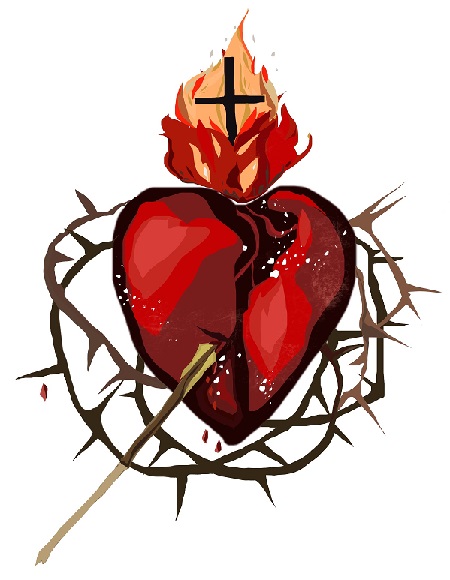 LIFE NEWS FOR OCTOBER 2022
THE WEEKEND LOOP FROM CATHOLIC VOTE / 10-01-2022
Mike Pence's organization, Advancing American Freedom, is leading a conservative coalition demanding Justice Department records concerning the "ongoing attacks against pro-life organizations." Is the Justice Department ignoring them? According to Catholic Vote trackers, at least seventy-three pregnancy resource centers and organizations as well as 83 Catholic churches have been attacked since the leak of the Dobbs v. Jackson Woman's Health Organization draft opinion showing that Roe v. Wade would be overturned.
DIOCESE OF ROCKVILLE CENTER / 10-03-2022
Catholic Charities, Regena Maternity Services, provide case management, crisis intervention, and parenting education to low-income pregnant and parenting mothers with infants and toddlers on Long Island.
Dr. Susan Bane, M.D., PhD. recently stated if a mother has a life threating medical condition after viability, she and her doctor may discuss treatment options. If premature separation of the mother and baby must occur, the baby may be delivered either by induction of labor or cesarean section. An elective abortion never needs to happen. After delivery, the NICU team would evaluate the baby to determine whether the baby could be resuscitated, receive medical care, and possibly survive. The baby would be deliver intact as opposed to an elective abortion in which the baby is dismembered. The family would be offered the opportunity to hold, love, and say goodbye to their baby.
JOHN HORVAT / RETURN TO ORDER / 10-5-22
Adopting the word "choice" framed the abortion debate as a woman's freedom issue, not the killing of innocent life. The pro-abortion movement now suggests a harsh replacement term: pro-abortion. The abandonment of choice suggests the debate was never about choice. After the Dobbs decision, the dictatorial nature of the left forces its agenda on everyone. It will impose abortion upon the nation at any cost.
VARIA / NATIONAL REVIEW / 10-06-2022
Since Dobbs, thousands of lives have been saved. Sixty-six clinics no longer offer abortions. There are no abortions services in fourteen states. Forty remain open for other sexual and reproductive services, such as prescribing birth control or referring women to seek abortions in other states. The other twenty-six have permanently closed their doors. Multiple Democratic dominated states, such as California, have advertised themselves as "sanctuary" states for abortion proposing to subsidize travel and accommodations for out of state pregnant women seeking abortions.
PERSONHOOD ALLIANCE / 10/07/2022
Paul Vaughn, President of Personhood Tennessee. has been arrested by the FBI. The father of 11was arrested at gunpoint in front of his wife and children at his home. Over a year ago he participated in a peaceful pro-life rescue in Mount Juliet, Tennessee. He is now being charged with violating the FACE Act which carries heavy fines and a prison sentence of more than ten years.
THE WEEKEND LOOP FROM CATHOLIC VOTE / 10-08-2022
Pro-abortion groups are working to get abortion pills to pregnant woman via internet consultations side stepping state pro-life laws. Pro-Life Obstetricians and Gynecologists warn against taking the pill without medical supervision which is becoming more common.
· The pill may result in dangerous health complications or even maternal mortalities. The abortion industry is downplaying the risks.
· Using telemedicine, without an ultrasound, misdating a pregnancy, which is targeted at 10 weeks gestation or less, may result in a need to complete the abortion surgically. After 13 weeks, chances of surgical completion are one out of three.
· Medical abortion will not end an undetected ectopic pregnancy. If the embryo ruptures the fallopian tube, thinking the symptoms are those expected during medical abortion, a mother may not seek medical care. That could lead to a life threating situation for her.
· Abortion pills are being marketed as a good substitute for women who are remote from healthcare access. If it takes an aborting woman two hours to get to a hospital for emergency surgical services, it requires more time for her to receive the life-saving emergency care she may need.
· A blood test is required to screen for Rh compatibility to prevent isoimmunization, an immune reaction. An immune reaction in the next pregnancy results in fetal loss. With a proper diagnosis, it is completely preventable.
· Doctors warn that telehealth visits are poor substitutes for in-office exams. The danger that the woman on the other end may not be the person the medication is intended for. This may result in abuse by coerced or forced abortions.
· Doctors warn that mothers may not be prepared to view the remains of the child.
KRISTAN HAWKINS / STUDENTS FOR LIFE / 10-9-22
Students for life recently kicked off a "Make Abortion Illegal Again" Speaking Tour at the University of Cincinnati, Ohio state, Harvard, Yale, University of Wisconsin, Penn State, University of South Carolina, and Clemson. Ms. Hawkins is debating people who have no respect for life - or the truth. The abortion lobby knows if we can have one-on-one conversations with students – sharing the TRUTH about what abortion really is - young people, despite the best efforts of Planned Parenthood and their professors, REJECT the abortion extremism being peddled.
JOHN HORVAT / RETURN TO ORDER / 10-12-22
The Presidents opposes Senator Lindsay Graham's, Protecting Pain Capable Unborn Children from Late-term Abortion Act proposed on September 13,2022. The bill seeks to forbid abortion past 15 weeks gestation. The president misrepresents the bill as harmful to women's health care.
VARIA / CATHOLIC NEWS AGENCY / 10-12-2022
Many YouTube videos produced by Catholic or pro-life organizations will now bear an abortion disclaimer and links to an abortion webpage, as YouTube claims that abortion is a topic prone to misinformation. YouTube is preferring one side and position over the other by adding these disclaimers. It is attempting to prejudice viewers against the pro-life position.
LIVE ACTION NEWS / 10-13-2022
The Supreme Court of the United States declined to take on a case centered on the personhood of preborn children. The lawsuit was filed by Catholics for Life and two pro-life activists on behalf of their per-born children against Rode Island's Reproductive Privacy Act. In May, the Rode Island Supreme Court ruled that fetuses are not people and are therefore not protected by the Constitution.
VARIA / NEW YORK DAILY NEWS / 10-14-2022
New York State is doling out an additional $13.4 million to bolster access to abortion services. It is the second release from the recently created Abortion Provider Support Fund after the reversal of Roe v. Wade in June. It will go to thirty-seven providers and cover sixty-four clinical sites in New York with a focus on areas where woman may come from out of state to seek abortion access. Hochul first unveiled the $25 million in funding back in May. Other steps to safeguard abortion include:
· New laws expanding legal protections for service providers.
· Barring medical misconduct charges for preforming abortions.
· Enshrining abortion access and LBGTQ rights in the state's constitution last July.
President Joe Biden promised that the first bill he sends to Capitol Hill next year will be one that writes abortion protections into law if Democrats control enough seats in Congress to pass it.
RESPECT LIFE OFFICE / ARCHDIOCESE OF NEW YORK /10/18/22
The 50th annual March for Life will take place on Friday, Jan 20th, 2023, in Washington D.C.
STUDENTS FOR LIFE ACTION / KRISTAN HAWKINS / 10/19/22
News reports confirm that every democrat running for federal office supports NO restrictions on abortion throughout all nine months of pregnancy.
VARIA / AP NEWS / 10-21-2022
Almost five months after the Supreme Court suffered one of the worst breaches of confidentiality in its 223-year history, triggering a rare investigation into the inner workings of the high court, the court has offered no public update on the findings of its inquiry. Justice Thomas called the leak a symptom of a larger problem – an attempt to bully government institutions when they do not deliver preferred outcomes. Whether the court has found a perpetrator, changed its policies or is bracing for more disclosures is not something the justices have announced.
PERSONHOOD ALLIANCE / 10-22-22
The FACE Act or Freedom of Access to Clinic Entrances Act is being used by the Department of Justice to characterize peaceful protestors as a "terrorist" threat to American society. The Act gives the DOJ the legal means to make this pretense seem real. Equally worrying, they disproportionally may punish political opponents with prison sentences in excess of ten years.
USCCB ADVOCACY / U.S. CONFERENCE OF CATHOLIC BISHOPS /10/27/2022
Tell Congress to prioritize policies that support women, children, and families. Encourage your Representatives, Schumer, Ryan, and Gillibrand to support bills such as the Pregnant Workers Fairness Act, the PUMP for Nursing Mothers Act, the Child tax Credit, paid family leave, pregnancy resource centers, childcare and pre-kindergarten programs, housing, nutrition, maternal and child health, adoption, healthy relationships, environmental protections, and inclusion of immigrant families in social programs.
Family & ProLife News Briefs
October 2022
Participate in Some Way During This Respect Life Month
Called to Serve Moms in Need
The U.S. Catholic Bishops are providing free 2022 Respect Life Month resources to assist in helping us understand, value, and become engaged with building a culture that cherishes every human life. Various materials are available to order in print or to download
online at www.respectlife.org/respect-life-month. One example is the Reflection, excerpts of which follow:
After Mary's visitation to Elizabeth, she, pregnant with Jesus, spends the next three months at Elizabeth's side. The witness of our Blessed Mother invites us to become more aware of the needs of pregnant and parenting moms in our own parishes and communities.
A woman with an unexpected pregnancy may have any number of fears and challenges: facing judgment from her friends and family, losing her job or housing, or being abandoned by the father of her child. Following Mary's example, we can ask ourselves how to better know these mothers, listen to them, seek understanding, and help them obtain the necessities of life for themselves and their children. Like the Blessed Mother, we must find ways to lovingly support mothers in welcoming and caring for God's gift of life. It is a summons to help vulnerable women who may be isolated and alone. By doing so, we too can bear Christ within us & help others experience His presence. Inspired by the Blessed Mother's example and guided by the Holy Spirit, may we offer Christ's presence & love to mothers in their time of need through our faithful service and support.
Pregnancy Resources for Women
"Every day we wake up to news of more and more violence – against houses of worship, against pregnancy resource centers and against children. It is both horrifying and heart-wrenching." [Ed's note: there have been over 100 such instances in the past year.]
"Many years ago, St. Mother Teresa of Calcutta said, 'Any country that accepts abortion is not teaching its people to love, but to use violence to get what they want. This is why the greatest destroyer of love is abortion.'"
These words were written in the Fall 2022 newsletter of Life Choices Resource Center (Metuchen, NJ) and reflect the caring and support that can be found at over 3,000 such centers nationwide that provide support and assistance to women in crisis pregnancy. One thing each of us can do is help the work of our local centers by our support and volunteer assistance.
This free monthly newsletter is used by dozens of churches as a bulletin insert, and since 2013 has had over 30,000 readers. To receive each month's issue in your inbox, email Frank Tinari, Ph.D. at tinarifr@shu.edu
New Jersey Bishop Invites Catholics to Take the Next Step
Parishioners from the Diocese of Paterson and beyond are invited to join Bishop Kevin J. Sweeney, DD, for its first Respect Life Convocation. In light of the recent Supreme Court decision that affords renewed protection for life in the womb, this event will highlight and promote the Church's advocacy for life and for women in need, and practically equip lay people to contribute to the culture of life. The morning will include options to attend two breakout sessions presented by experienced activists on topics such as Walking with Moms in Need, Reaching out with Compassion to Those Touched by Abortion, Answering Tough Life Questions, and Building a Parish Culture of Life.
The Convocation is scheduled for Saturday, October 29, 2022, from 9 am to 1 pm at St. Paul Inside the Walls, Madison, NJ. To register visit https://insidethewalls.org/pro-life-convocation-registration-page
Saint Therese once said that" what wounds the heart of God most are not our fault and sins, but our lack of trust in his love and mercy." For anyone who has been involved in a mercy killing or an abortion, seek God's abundant mercy and forgiveness.
Lila Rose Drops Mic on 'Dr. Phil'
Lila Rose, the founder and president of the national pro-life group Live Action, recently spoke in defense of the unborn in cases of rape and fetal anomalies to a national audience on Dr. Phil's talk show. In response to the talk-show host's statement that the scientific community is divided on the question of whether life begins at conception, she countered with a powerful one-liner. Rose asked: "In an abortion, if it's not a human life why do you have to kill it?"
Dr. Phil commented that "there is no consensus among the scientific community."
Rose stated: "There is, Dr. Phil. Ninety-six percent of scientists say that life begins at fertilization."A study conducted by a University of Chicago doctoral student showed that a majority of biologists believe life begins at conception. Of the 5,577 biologists who responded to a survey he sent out, 96% supported this fact. [Francesca Pollio Fenton, EWTN News CNA, 9/15/22]
College Students Outraged
Controversy followed a change in student health services at Oberlin College (Ohio) that leaves students without ready access to contraceptives. Not a Catholic college, Oberlin, like many colleges and universities, outsources student health to an outside provider. On Aug. 1, to run the student health center, it contracted with a subsidiary of Bon Secours Mercy Health, a Catholic health care network that follows the Ethical and Religious Directives for Catholic Health Care Services (ERDs) issued by the U.S. Conference of Catholic Bishops. For example, Catholic hospitals "may not promote or condone contraceptive practices"; similarly, elective sterilization procedures, such as tubal ligations or vasectomies, are prohibited. Following the Supreme Court's recent decision in Dobbs v. Jackson, which overturned Roe v. Wade's legalization of abortion, Catholic health networks are facing increasing pressure to make contraceptives and like medical procedures more readily available. According to a 2020 study by Community Catalyst, four of the 10 largest American health systems are Catholic. In 52 regions Medicare and Medicaid services have identified that the only local hospital ("sole community hospital") is a Catholic hospital. The guidelines issued by the USCCB offer the framework for Catholic health care:
"to see healing and compassion as a continuation of Christ's mission; ... and to see death, transformed by the Resurrection, as an opportunity for a final act of communion with Christ." Our faithful imitation of Christ calls us to run to serve the sick, to alleviate suffering, to offer the compassionate love & mercy of the Lord to all in need. Catholic physicians, nurses and health care professionals can transform a patient's experience of health care by clearly explaining the Church's teaching. Rather than accept the false narrative that Catholics "deny care," faithful Catholics can help animate the larger sense and spirit of the hospitals, clinics and medical groups where they are employed. To live out our faith, we cannot stay within the four walls of our churches. We must serve the sick, the suffering and the dying. And we must serve them as Catholics. [Editorial: The indispensable duty of Catholic hospitals, Our Sunday Visitor, 9/13/22]
Can You Give One Hour a Week?
The visible, public centerpiece of 40 Days for Life (Sept. 28 to Nov. 6) is a focused, 40-day, non-stop, round-the-clock prayer vigil outside a single Planned Parenthood center or other abortion facility in your community. It is a peaceful and educational presence. Those who are called to stand witness during this 24-hour-a-day presence send a powerful message to the community about the tragic reality of abortion. 40 Days for Life has a proven track record of saving lives and closing abortion facilities in over 1,000 cities in 64 countries. Since 2007, 120 abortion centers have closed with the help of nearly 1 million volunteers and over 20,000 church groups. To find a local vigil near you, visit https://www.40daysforlife.com/ and click on Locations. Your local county or state Respect Life group may also have detailed information.
Movies, TV and a Book
If you want a break from your usual video fare, something with a bit more enduring substance, check out some of these:
# A Wolf in Sheep's Clothing. Part 1. Saul Alinsky's
Rules for Radicals spawned upheaval against religion & traditional culture of American society. EWTN TV,
10/16/22. Part 2. Radical progressive views warp society's traditional attitudes on gender, human sexuality,
marriage and family. EWTN TV, 10/23/22.
# Mother Teresa: No Greater Love. Archives were hunted down all over the world to help create this eyeopening film. In over 960 theaters Oct. 3-4.
# Lifemark. The movie celebrates the life-giving choice of adoption through the true story of Louisiana native David Scotton. Adopted as an infant, he grows up in a loving home. At age 18 & about to graduate high school, he unexpectedly receives a message from his birth mother, asking to meet him. For theater tickets, visit LifemarkMovie.com.
# The Seven Big Myths About Marriage (Ignatius Press).
How true marital happiness is based on authentic love, always seeking the good of the other.
Unmasking Truth About Chemical Abortions
Many in government & the elites continue to expand access to abortion. Agencies now allow telemedicine chemical abortions without a clinic in-person visit. The U.S. studies on which these recommendations are based are seriously flawed. More careful European studies show significant death and complication rates, even with patient physical exam, ultrasound, screening, and treatment for STDs and in-person follow-up. States should ban telemedicine abortions without an in-person visit, including a pelvic exam and ultrasound. [Kathleen Raviele, M.D., Unmasking the Truth About Chemical Abortions, Life & Learnings XXXI, 2022.]
Some Stories You May Have Missed
The major cable and TV networks often ignore reports that don't agree with their agenda. Here are just a few:
Court: Catholic Hospitals Don't Have to PerformAbortions, 'Transitions' Nat. Catholic Register 9/11/22
The UN World Health Org. (WHO) Thinks You Might Be Neither Male Nor Female, C-Fam Letter 8/22
Pro-Life Movement Finds Allies in Secular Organizations,Our Sunday Visitor, 8/28/22
NOTICIAS DE VIDA PARA OCTUBRE 2022

EL BUCLE DEL FIN DE SEMANA DEL VOTO CATÓLICO / 01-10-2022
La organización de Mike Pence, Advancing American Freedom, lidera una coalición conservadora que exige registros del Departamento de Justicia sobre los "ataques en curso contra las organizaciones pro-vida". ¿Los está ignorando el Departamento de Justicia? Según los rastreadores de Catholic Vote, al menos setenta y tres centros y organizaciones de recursos para el embarazo, así como 83 iglesias católicas, han sido atacados desde la filtración del borrador de opinión de Dobbs v. Jackson Woman's Health Organization que muestra que Roe v. Wade sería anulado.
DIÓCESIS DE ROCKVILLE CENTRO / 10-03-2022
Caridades Católicas, Servicios de Maternidad de Regena, brindan administración de casos, intervención en crisis y educación para padres a madres embarazadas y madres con bebés y niños pequeños de bajos ingresos en Long Island.
NOTICIAS ACCIÓN EN VIVO / 10-03-2022
Dra. Susan Bane, MD, PhD. declaró recientemente que si una madre tiene una afección médica potencialmente mortal después de la viabilidad, ella y su médico pueden analizar las opciones de tratamiento. Si debe ocurrir una separación prematura de la madre y el bebé, el bebé puede nacer por inducción del parto o por cesárea. Un aborto electivo nunca tiene que suceder. Después del parto, el equipo de la UCIN evaluaría al bebé para determinar si podría resucitarlo, recibir atención médica y posiblemente sobrevivir. El bebé nacería intacto en lugar de un aborto electivo en el que el bebé es desmembrado. A la familia se le ofrecería la oportunidad de abrazar, amar y despedirse de su bebé.
JOHN HORVAT / VUELTA AL ORDEN / 5-10-22
La adopción de la palabra "elección" enmarcó el debate sobre el aborto como un tema de libertad de la mujer, no como el asesinato de vidas inocentes. El movimiento a favor del aborto ahora sugiere un duro término de reemplazo: pro-aborto. El abandono de la elección sugiere que el debate nunca fue sobre la elección. Después de la decisión de Dobbs, la naturaleza dictatorial de la izquierda impone su agenda a todos. Impondrá el aborto a la nación a toda costa.
VARIA / REVISTA NACIONAL / 10-06-2022
Desde Dobbs, se han salvado miles de vidas. Sesenta y seis clínicas ya no ofrecen abortos. No hay servicios de aborto en catorce estados. Cuarenta permanecen abiertas para otros servicios sexuales y reproductivos, como la prescripción de anticonceptivos o la derivación de mujeres para que aborten en otros estados. Los otros veintiséis han cerrado definitivamente sus puertas. Múltiples estados dominados por los demócratas, como California, se han anunciado a sí mismos como estados "santuario" para el aborto y proponen subsidiar los viajes y el alojamiento para mujeres embarazadas que buscan abortos fuera del estado.
ALIANZA PERSONAJE / 07/10/2022
Paul Vaughn, presidente de Personhood Tennessee. ha sido arrestado por el FBI. El padre de 11 fue arrestado a punta de pistola frente a su esposa e hijos en su casa. Hace más de un año participó en un rescate pro-vida pacífico en Mount Juliet, Tennessee. Ahora está siendo acusado de violar la Ley FACE, que conlleva fuertes multas y una pena de prisión de más de diez años.
EL BUCLE DEL FIN DE SEMANA DEL VOTO CATÓLICO / 10-08-2022
Los grupos a favor del aborto están trabajando para hacer llegar las píldoras abortivas a las mujeres embarazadas a través de consultas por Internet al margen de las leyes estatales a favor de la vida. Los obstetras y ginecólogos pro-vida advierten contra tomar la píldora sin supervisión médica, lo cual es cada vez más común.
· La píldora puede resultar en peligrosas complicaciones de salud o incluso en la mortalidad materna. La industria del aborto está minimizando los riesgos.
· El uso de la telemedicina, sin ultrasonido, la fecha incorrecta de un embarazo, que tiene como objetivo 10 semanas de gestación o menos, puede resultar en la necesidad de completar el aborto quirúrgicamente. Después de 13 semanas, las posibilidades de que se complete la cirugía son una de cada tres.
· El aborto con medicamentos no pondrá fin a un embarazo ectópico no detectado. Si el embrión rompe la trompa de Falopio, pensando que los síntomas son los esperados durante un aborto con medicamentos, es posible que la madre no busque atención médica. Eso podría conducir a una situación que amenaza la vida de ella.
· Las píldoras abortivas se comercializan como un buen sustituto para las mujeres que se encuentran alejadas del acceso a la atención médica. Si una mujer que aborta tarda dos horas en llegar a un hospital para recibir servicios quirúrgicos de emergencia, necesitará más tiempo para recibir la atención de emergencia que pueda necesitar para salvarle la vida.
· Se requiere un análisis de sangre para detectar la compatibilidad Rh para prevenir la isoinmunización, una reacción inmunitaria. Una reacción inmunitaria en el siguiente embarazo da como resultado la pérdida fetal. Con un diagnóstico adecuado, es completamente prevenible.
· Los médicos advierten que las visitas de telesalud son malos sustitutos de los exámenes en el consultorio. El peligro de que la mujer del otro lado no sea la persona a la que está destinado el medicamento. Esto puede resultar en abuso mediante abortos forzados o bajo coacción.
· Los médicos advierten que las madres pueden no estar preparadas para ver los restos del niño.
ACCIÓN DE ESTUDIANTES PARA LA VIDA / KRISTAN HAWKINS / 19/10/22
Los informes noticiosos confirman que todos los demócratas que se postulan para un cargo federal NO apoyan restricciones al aborto durante los nueve meses de embarazo.
VARIA / NOTICIAS AP / 21-10-2022
Casi cinco meses después de que la Corte Suprema sufriera una de las peores violaciones de confidencialidad en sus 223 años de historia, lo que desencadenó una rara investigación sobre el funcionamiento interno de la corte superior, la corte no ha ofrecido ninguna actualización pública sobre los resultados de su investigación. El juez Thomas calificó la filtración como un síntoma de un problema mayor: un intento de intimidar a las instituciones gubernamentales cuando no ofrecen los resultados deseados. Si el tribunal ha encontrado a un perpetrador, ha cambiado sus políticas o se está preparando para más revelaciones, no es algo que los jueces hayan anunciado.
ALIANZA DE PERSONALIDAD / 22-10-22
El Departamento de Justicia está utilizando la Ley FACE o Ley de Libertad de Acceso a las Entradas de las Clínicas para caracterizar a los manifestantes pacíficos como una amenaza "terrorista" para la sociedad estadounidense. La Ley le da al Departamento de Justicia los medios legales para hacer que esta pretensión parezca real. Igualmente preocupante, pueden castigar de manera desproporcionada a los opositores políticos con penas de prisión de más de diez años.
DEFENSA DE USCCB / CONFERENCIA DE OBISPOS CATÓLICOS DE EE. UU. /27/10/2022
Dígale al Congreso que priorice las políticas que apoyan a las mujeres, los niños y las familias. Aliente a sus Representantes, Schumer, Ryan y Gillibrand a que apoyen proyectos de ley como la Ley de Equidad para Trabajadoras Embarazadas, la Ley PUMP para Madres Lactantes, el Crédito Tributario por Hijos, la licencia familiar pagada, los centros de recursos para el embarazo, los programas de cuidado infantil y de prejardín de infantes, vivienda, nutrición, salud materna e infantil, adopción, relaciones saludables, protección ambiental e inclusión de familias inmigrantes en programas sociales.
Noticias breves sobre la familia y ProVida
octubre 2022
Participe de alguna manera durante este Mes de Respetemos la Vida
Llamados a servir a las madres necesitadas
Los obispos católicos de EE. UU. están proporcionando recursos gratuitos del Mes de Respetemos la Vida 2022 para ayudarnos a comprender, valorar y comprometernos con la construcción de una cultura que aprecie cada vida humana. Varios materiales están disponibles para ordenar en forma impresa o para descargar
en línea en www.respectlife.org/respect-life-month. Un ejemplo es la Reflexión, de la que siguen extractos:
Después de la visita de María a Isabel, ella, embarazada de Jesús, pasa los siguientes tres meses al lado de Isabel. El testimonio de nuestra Santísima Madre nos invita a ser más conscientes de las necesidades de las madres embarazadas y madres en nuestras propias parroquias y comunidades.
Una mujer con un embarazo inesperado puede tener una serie de temores y desafíos: enfrentar el juicio de sus amigos y familiares, perder su trabajo o vivienda, o ser abandonada por el padre de su hijo. Siguiendo el ejemplo de María, podemos preguntarnos cómo conocer mejor a estas madres, escucharlas, buscar comprensión y ayudarlas a obtener las necesidades de la vida para ellas y sus hijos. Al igual que la Santísima Madre, debemos encontrar formas de apoyar amorosamente a las madres para que acojan y cuiden el regalo de la vida de Dios. Es un llamado a ayudar a mujeres vulnerables que pueden estar aisladas y solas. Al hacerlo, también podemos llevar a Cristo dentro de nosotros y ayudar a otros a experimentar Su presencia. Inspirados por el ejemplo de la Santísima Madre y guiados por el Espíritu Santo, que podamos ofrecer la presencia y el amor de Cristo a las madres en su momento de necesidad a través de nuestro fiel servicio y apoyo.
Recursos de embarazo para mujeres
"Todos los días nos despertamos con noticias de más y más violencia: contra los lugares de culto, contra los centros de recursos para el embarazo y contra los niños. Es a la vez horrible y desgarrador". [Nota del editor: ha habido más de 100 casos de este tipo en el último año.]
"Hace muchos años, Santa Madre Teresa de Calcuta dijo: 'Cualquier país que acepta el aborto no está enseñando a su gente a amar, sino a usar la violencia para obtener lo que quieren. Por eso el mayor destructor del amor es el aborto'".
Estas palabras se escribieron en el boletín de otoño de 2022 del Life Choices Resource Center (Metuchen, NJ) y reflejan el cuidado y el apoyo que se puede encontrar en más de 3000 centros de este tipo en todo el país que brindan apoyo y asistencia a mujeres en crisis de embarazo. Una cosa que cada uno de nosotros puede hacer es ayudar al trabajo de nuestros centros locales con nuestro apoyo y asistencia voluntaria.
Este boletín mensual gratuito es utilizado por docenas de iglesias como parte del boletín y desde 2013 ha tenido más de 30,000 lectores. Para recibir el número de cada mes en su bandeja de entrada, envíe un correo electrónico a Frank Tinari, Ph.D. en tinarifr@shu.edu
El obispo de Nueva Jersey invita a los católicos a dar el siguiente paso
Los feligreses de la Diócesis de Paterson y más allá están invitados a unirse al Obispo Kevin J. Sweeney, DD, para su primera Convocatoria de Respeto a la Vida. A la luz de la reciente decisión de la Corte Suprema que brinda protección renovada para la vida en el útero, este evento destacará y promoverá la defensa de la Iglesia por la vida y por las mujeres necesitadas, y equipará prácticamente a los laicos para contribuir a la cultura de la vida. La mañana incluirá opciones para asistir a dos sesiones de grupo presentadas por activistas experimentados sobre temas como Caminar con mamás necesitadas, Llegar con compasión a las personas afectadas por el aborto, Responder preguntas difíciles de la vida y Construir una cultura de vida parroquial.
La convocatoria está programada para el sábado 29 de octubre de 2022, de 9 am a 1 pm en St. Paul Inside the Walls, Madison, NJ. Para registrarse, visite https://insidethewalls.org/pro-life-convocation-registration-page
Santa Teresa dijo una vez que "lo que más hiere el corazón de Dios no son nuestras culpas y pecados, sino nuestra falta de confianza en su amor y misericordia". y perdón
Lila Rose deja caer el micrófono en 'Dr. Phil'
Lila Rose, fundadora y presidenta del grupo nacional pro-vida Live Action, habló recientemente en defensa de los no nacidos en casos de violación y anomalías fetales ante una audiencia nacional en el programa de entrevistas del Dr. Phil. En respuesta a la declaración del presentador del programa de entrevistas de que la comunidad científica está dividida sobre la cuestión de si la vida comienza en el momento de la concepción, respondió con una poderosa frase. Rose preguntó: "En un aborto, si no es una vida humana, ¿por qué tienes que matarla?".
El Dr. Phil comentó que "no hay consenso entre la comunidad científica".
Rose declaró: "Existe, Dr. Phil. El noventa y seis por ciento de los científicos dicen que la vida comienza con la fertilización". Un estudio realizado por un estudiante de doctorado de la Universidad de Chicago mostró que la mayoría de los biólogos creen que la vida comienza con la concepción. De los 5577 biólogos que respondieron a una encuesta que envió, el 96% apoyó este hecho. [Francesca Pollio Fenton, EWTN News CNA, 15/09/22]
Estudiantes universitarios indignados
La controversia siguió a un cambio en los servicios de salud para estudiantes en Oberlin College (Ohio) que deja a los estudiantes sin acceso inmediato a los anticonceptivos. No es una universidad católica, Oberlin, como muchos colegios y universidades, subcontrata la salud de los estudiantes a un proveedor externo. El 1 de agosto, para administrar el centro de salud para estudiantes, contrató a una subsidiaria de Bon Secours Mercy Health, una red católica de atención médica que sigue las Directivas éticas y religiosas para los servicios católicos de atención médica (ERD, por sus siglas en inglés) emitidas por la Conferencia de Católicos de EE. UU. obispos. Por ejemplo, los hospitales católicos "no pueden promover ni tolerar prácticas anticonceptivas"; Asimismo, se prohíben los procedimientos de esterilización electiva, como la ligadura de trompas o la vasectomía. Tras la reciente decisión de la Corte Suprema en Dobbs v. Jackson, que anuló la legalización del aborto de Roe v. Wade, las redes católicas de salud enfrentan una presión cada vez mayor para que los anticonceptivos y procedimientos médicos similares estén más disponibles. Según un estudio de 2020 realizado por Community Catalyst, cuatro de los 10 sistemas de salud estadounidenses más grandes son católicos. En 52 regiones, los servicios de Medicare y Medicaid han identificado que el único hospital local ("único hospital comunitario") es un hospital católico. Las pautas emitidas por la USCCB ofrecen el marco para la atención médica católica:
"ver la curación y la compasión como una continuación de la misión de Cristo; ... y ver la muerte, transformada por la Resurrección, como una oportunidad para un acto final de comunión con Cristo". Nuestra fiel imitación de Cristo nos llama a correr para servir a los enfermos, aliviar el sufrimiento, ofrecer el amor compasivo y la misericordia del Señor a todos los necesitados. Los médicos, enfermeras y profesionales de la salud católicos pueden transformar la experiencia de atención médica de un paciente al explicar claramente las enseñanzas de la Iglesia. En lugar de aceptar la falsa narrativa de que los católicos "niegan la atención", los católicos fieles pueden ayudar a animar el sentido y el espíritu más amplios de los hospitales, clínicas y grupos médicos donde trabajan. Para vivir nuestra fe, no podemos quedarnos dentro de las cuatro paredes de nuestras iglesias. Debemos servir a los enfermos, a los que sufren ya los moribundos. Y debemos servirles como católicos. [Editorial: El deber indispensable de los hospitales católicos, Our Sunday Visitor, 9/13/22]
¿Puedes dar una hora a la semana?
La pieza central visible y pública de 40 Días por la Vida (del 28 de septiembre al 6 de noviembre) es una vigilia de oración enfocada, de 40 días, sin parar, las 24 horas frente a un único centro de Planned Parenthood u otra instalación de aborto en su comunidad. Es una presencia pacífica y educativa. Aquellos que son llamados a ser testigos durante esta presencia de 24 horas al día envían un poderoso mensaje a la comunidad sobre la trágica realidad del aborto. 40 Days for Life tiene un historial comprobado de salvar vidas y cerrar centros de aborto en más de 1,000 ciudades en 64 países. Desde 2007, 120 centros de aborto han cerrado con la ayuda de casi 1 millón de voluntarios y más de 20 000 grupos religiosos. Para encontrar una vigilia local cerca de usted, visite https://www.40daysforlife.com/ y haga clic en Ubicaciones. Su grupo local de Respeto a la Vida del condado o del estado también puede tener información detallada.
Películas, TV y un libro
Si desea un descanso de su tarifa de video habitual, algo con una sustancia un poco más duradera, consulte algunos de estos:
# Un lobo con piel de cordero. Parte 1. Saul Alinsky
Las Reglas para Radicales generaron agitación contra la religión y la cultura tradicional de la sociedad estadounidense. televisión ewtn,
16/10/22. Parte 2. Los puntos de vista progresistas radicales distorsionan las actitudes tradicionales de la sociedad sobre género, sexualidad humana,
matrimonio y familia. EWTN TV, 23/10/22.
# Madre Teresa: No hay amor más grande. Se buscaron archivos en todo el mundo para ayudar a crear esta película reveladora. En más de 960 cines del 3 al 4 de octubre.
# Marca de vida. La película celebra la decisión vital de la adopción a través de la historia real del nativo de Luisiana David Scotton. Adoptado de niño, crece en un hogar amoroso. A los 18 años y a punto de graduarse de la escuela secundaria, inesperadamente recibe un mensaje de su madre biológica, pidiéndole conocerlo. Para boletos de teatro, visite LifemarkMovie.com.
# Los siete grandes mitos sobre el matrimonio (Ignatius Press).
Cómo la verdadera felicidad conyugal se basa en el amor auténtico, buscando siempre el bien del otro.
Desenmascarando la verdad sobre los abortos químicos
Muchos en el gobierno y las élites continúan ampliando el acceso al aborto. Las agencias ahora permiten abortos químicos por telemedicina sin una visita a la clínica en persona. Los estudios estadounidenses en los que se basan estas recomendaciones tienen graves fallas. Estudios europeos más cuidadosos muestran tasas significativas de muerte y complicaciones, incluso con examen físico del paciente, ecografía, detección y tratamiento de enfermedades de transmisión sexual y seguimiento en persona. Los estados deben prohibir los abortos por telemedicina sin una visita en persona, incluido un examen pélvico y una ecografía. [Kathleen Raviele, M.D., Desenmascarando la verdad sobre los abortos químicos, Life & Learnings XXXI, 2022.]
Algunas historias que quizás te hayas perdido
Las principales cadenas de cable y televisión a menudo ignoran los informes que no están de acuerdo con su agenda. Aquí hay algunos:
Corte: Los hospitales católicos no tienen que realizar abortos, 'Transiciones' Nat. Registro Católico 9/11/22
La Organización Mundial de la Salud de las Naciones Unidas. (OMS) cree que es posible que no sea ni hombre ni mujer, carta de C-Fam 8/22
Movimiento Pro-Vida encuentra aliados en organizaciones seculares, Our Sunday Visitor, 8/28/22
PUBLIC POLICY WEBSITES FOR FEDERAL
AND NEW YORK STATE LEGISLATION
WE CAN STAY INFORMED AND REACT TO SPECIFIC LEGISLATION
NEW YORK STATE ….
NYSCATHOLIC.ORG

FOR: NEW YORK STATE CATHOLIC CONFERENCE
@ 518-434-6195 /NYS-CATHOLIC-CONFERENCE-ACTION-CENTER
NYSRIGHTTOLIFE.ORG FOR: NEW YORK STATE RIGHT TO LIFE @ 518-434-1293
--------------------------------------------------------------------------------------------------------------------------------------------------------------
NATIONAL….
FEDERALLEGISLATION@NRLC.ORG FOR: NATIONAL RIGHT TO LIFE PROVIDING YOUR REPRESENTATIVES VOTING RECORD ON LIFE ISSUES IN CONGRESS @ 202-626-8820
WWW.NCHLA.ORG/ACTION.ASP

FOR: NATIONAL COMMITTEE FOR A HUMAN LIFE AMENDMENT @ 202-393-0703
WWW.PROLIFEALLIANCE.COM

FOR: NATIONAL PRO LIFE ALLIANCE @ 703-321-9200
WWW.ARCHNY.ORG/ FOR: PASTORAL / PUBLIC-POLICY FROM THE ARCHDIOCESE OF NEW YORK PUBLIC POLICY OFFICE @ 646-794-2807
WWW.CATHOLICVOTE.ORG

FOR: CURRENT ISSUES FOR CATHOLIC VOTERS
WWW.PROLIFELI.ORG FOR: LONG ISLAND COALITION FOR LIFE PROVIDES CURRENT INFORMATION ON FEDERAL AND STATE LEGISLATIVE ISSUES… EXCELLENT LEGISLATIVE INFORMATION
WWW.HLI.ORG FOR: HUMAN LIFE INTERNATIONAL / DEFENDING LIFE AND FAMILY AROUND THE WORLD
Ulster Deanery Respect Life Committee © All rights reserved © 05/19/2022