Our next meeting will be held on March 28th @7pm. Location will be determined and communicated at a later date. Thank you and God Bless You!
†
Parishioners and Neighbors of Good Will!
Let's pray for and call/e-mail/lobby our state legislators to vote NO on the "Medical Aid in Dying" bill, a.k.a. bill A995/S2445.
Glory to Jesus Christ! Glory to Him forever!
With the Medical Aid in Dying Act bill pending in the State Legislature, the wolf is at the door – clothed in medical white – for our sick, frail, disabled, and elderly. They all deserve better than being finished off as the prescription for their maladies and for the balance sheets of insurers, firms, and other interest groups. Instead, let's have health care attend to human suffering and morbidity without getting rid of the patient.
On behalf of the Gospel of Life, first let's pray for the conversion of heart and mind on this issue of your state legislators: Hon. Brian Maher (State Assemblyman) and Hon. Peter Oberacker (State Senator). For others in Ulster County, there are other state legislators who may represent you (please pray for them!). These may be ascertained from either www.ulsterdeaneryrespectlife.org (Ulster Deanery Respect Life Committee) or www.nyscatholic.org (New York State Catholic Conference). For persons from other counties, please refer to the website of the New York State Catholic Conference as indicated previously. I invite local pastors of souls to disseminate this call to action far and wide amongst New Yorkers.
Then, let's make ourselves heard respectfully yet firmly to them: Please refer to the bill numbers!
Hon. Sarahana Shrestha
N.Y.S. Assemblywoman
1 Albany Avenue, Suite G-1
Kingston, New York 12401
Tel. (845) 338-9610 Fax: (845) 338-9550 E-mail: shresthas@nyassembly.gov
------
Hon. Michelle Hinchey
N.Y.S. Senator
721 Broadway, Suite 150
Kingston, New York 12401
Tel. (845) 331-3810 Fax: (845) 331-2083 E-mail: hinchey@nysenate.gov
------
Hon. Jonathan Jacobson
104TH ASSEMBLY DISTRICT
MARLBORO – MILTON – HIGHLAND – LLOYD - PLATTEKILL
ALBANY -518-455-5762
NEWBURGH – 845-562-0888
------
Hon. Brian Maher
N.Y.S. Assemblyman
14 Central Avenue
Walkill, New York 12589
Tel. (845) 895-1080 E-mail: maherb@nyassembly.gov
------
Hon. Peter Oberacker
N.Y.S. Senator
41 South Main Street
Oneonta, New York 13820
Tel. (518) 455-3131 E-mail: oberacker@nysenate.gov
We are not being "political" as we parishioners and fellow New Yorkers seek to educate or evangelize our neighbors. To the contrary, "assisted suicide" (euthanasia, let's face it) is a moral issue that has many implications, including on public policy. After praying for our state legislators, by sharing our concerns with our legislators over a proposed perversion of medicine that places human lives in danger, we are trying to lead them to truth and to serve legislatively for the common good.
Truly, this would be an additional act of charity for Lent. May God bless you for your time and effort to learn more about this pressing issue (The New York State Catholic Conference has information at www.nyscatholic.org) and to give witness to the Truth – lovingly and firmly – to our elected state representatives and to our families, friends, and neighbors.
Blessings from Rev. Fr. Arthur F. Rojas
Moderator-Spiritual Director, Ulster Deanery Respect Life Committee. ulsterrespectlifedeanerycmte@gmail.com
Re: A995 Paulin/S2445 Hoylman-Sigal
Relates to the medical aid in dying act
The above-referenced bill would add a new section of the Public Health Law to allow physicians to prescribe lethal doses of medication for the express purpose of ending a patient's life.
The New York State Catholic Conference opposes this bill for many reasons.
For years, we have argued that legalizing assisted suicide would result in a slippery slope. The ongoing euthanasia scandal in Canada is providing a real-time example of just how slippery the slope can be. What began in 2015 as a limited program for those with irreversible, terminal and painful illness has morphed into something entirely different in just a few years.
Subsequent to its initial legalization, availability for assisted suicide in Canada was expanded to those without terminal illness, but merely with an "intolerable" condition. There are plans in place to expand it further, to the mentally ill and even to "mature minors." Assisted suicide has been discussed and sought out as a solution for homelessness. There have been reports of doctors offering it to veterans suffering from PTSD, and those in need of extra help to live independently. As the Associated Press recently reported, people with disabilities and depression have been euthanized. It has been written about in terms of the cost-savings it would provide for the healthcare industry.
These shocking developments prove that a such a law, even with so-called safeguards, devalues human life. Implementing assisted suicide as an accepted medical "treatment" sends the message that our most vulnerable populations are not worth the resources it might take to improve their lives. Those most at risk of being taken advantage of and discarded by the health system will be endangered further.
Legalizing physician-assisted suicide would:
Blur longstanding medical, moral and legal distinctions between withdrawing extraordinary medical assistance and taking active steps to destroy human life. The former removes burdensome or useless treatments, allowing nature to take its course, and allowing the patient to either live or die. The latter is the deliberate and direct act of making a patient dead. In 2017, New York's highest court said this distinction is "important, logical, and certainly rational," adding that "it turns on intent." (See Myers v. Schneiderman, September 7, 2017)
Undermine the physician's role as healer, forever altering the doctor-patient relationship, and lessen the quality of care provided to patients at the end of life. Patients are best served when medical professionals, together with families and loved ones, provide support and care with dignity and respect, not lethal doses of drugs. The American Medical Association continues to hold a strong policy position against physician-assisted suicide, which they say is "fundamentally incompatible with the physician's role" and would be "difficult or impossible to control."
This particular legislation contains many of the same fatal flaws contained in previous versions:
it does not require screening, testing, or treatment for clinical depression;
it requires a physician to list the underlying illness (and not the lethal drugs) as the cause of death, making it impossible to know how widely this form of suicide is being practiced, thus making it impossible to track abuses;
it contains absolutely no safeguards against coercion or abuse once the lethal drugs are in the patient's possession; and
it contains no residency requirement, opening the door to out-of-state visitors obtaining deadly drugs here.
Rather than assisting suicide, we believe government should be consistent in its efforts to prevent suicide. It is illogical for the state to promote/facilitate suicide for one group of persons — calling the suicides of those with a terminal illness and a specific prognosis "dignified and humane," while recognizing suicide as a serious statewide public health crisis in all other circumstances and spending enormous resources to combat it.
We urge the state to remove barriers and improve access to palliative care and hospice care for those in the final stages of terminal illness. Improved education and training of physicians in pain management, together with appropriate diagnosis and treatment for depression, would go a long way toward eliminating calls for suicide among the sick and the dying.
Without these changes, and with the enactment of this legislation, we believe there is serious risk that physician-assisted suicide will rise to the level of the most acceptable, and even expected, "treatment" for terminal illness. The mainstreaming of such an option will lead to further disparities in caring for our most vulnerable. We urge you not to allow that to happen.
We strongly recommend opposition to this legislation.
ALLELUIA!
US SUPREME COURT
OVERTURNS
ROE v. WADE - 6 tO 3!
With new hope we pray and persevere for the Pro-Life cause in New York State and Ulster County. We welcome the cooperation of all people of good will.
Happy Feast Day of The Sacred Heart of Jesus.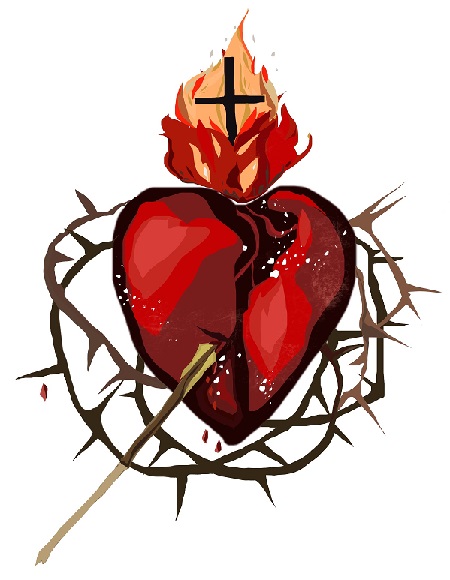 LIFE NEWS FOR FEBRUARY 2023
STUDENTS FOR LIFE ACTION / KRISTAN HAWKINS / 2-1-2023
The Born-Alive Abortion Survivors Protection Act (H.R. 26) would ensure that infants born alive after a botched abortion receive proper medical care. This bill should have passed the House through a unanimous vote. But sadly, only ONE House Democrat voted to pass the bill! Thanks to the new GOP majority in the House, the fight to enact this legislation has now moved to the U.S. Senate...but the pro-abortion Democrats still hold the majority.
PRIESTS FOR LIFE / FRANK PAVONE / 2-2-2023
At midnight on January 24, DirecTV announced it would be dropping the conservative news network Newsmax from its lineup of channels, following One America News being dropped in the spring of 2022. Senators Ted Cruz of Texas, Mike Lee of Utah, Tom Cotton of Arkansas, and Lindsey Graham of South Carolina have reached out to the CEOs of DirecTV, AT&T and TPG in a letter dated February 1, 2023. It reads in part as follows: "It appears that this decision may be the latest example of big business suppressing politically disfavored speech at the behest of liberal Democrats…We are writing to request detailed and specific information about DirecTV's actions. "Congress and the public have a right to know the extent to which DirecTV's decision to drop Newsmax was politically motivated, including whether the company succumbed to pressure from administration officials or Democrats in Congress. "DirectTV's decision follows recent revelations of collusion between Big Tech companies and Democrat officials to label conservative speech as 'misinformation' and censor it. The silencing of conservative speech at the request of government officials is a direct assault on free speech and a threat to democracy."
CATHOLIC ACTION NETWORK / 2-3-2023
GOVERNORS EXECUTIVE BUDGET PROPOSAL
Areas of Opposition:
Abortion access at public college campuses (S9444-A)
Data Privacy protections for abortion services
Over the counter prescription contraception access.
Bill S1003 -A - Senator Hinchey - Policy Based Exclusions This bill would require the commissioner of health to collect from each healthcare facility a list of its policy based exclusions and publish such information on the departments website. As part of its unceasing quest to expand and promote abortion to the exclusion of all else, the New York Legislature has of late been targeting Catholic hospitals through rhetoric and legislation. This bill, while careful not to name then specifically, seeks to malign these institutions by publicly shaming then and implying that they provide subpar care.
PERSONHOOD ALLIANCE / 2-4-2023
Pro- Lifer Mark Houck defeats the Biden administrations vendetta against the Pro-Life movement.
The South Carolina legislature stands up to pro-abortion Supreme Court advancing The Human Life Protection Act
A nationwide protest against CVS and Walgreens was planned for February 4th.
NOTE: There is a growing uproar over the decision by America's largest pharmacies to begin selling chemical abortion drugs that will kill children in the womb. A petition by Citizen Go and the Personhood Alliance is close to reaching 20,000 signers as of the writing of this story; another one by the Family Research Council has surpassed 50,000 signatures.
VARIA / NATIONAL REVIEW / 2-7-2023
A recent study in the journal Contraception should be of interest to pro-lifers — especially those with an interest in the work of pregnancy help centers. It provides very strong statistical evidence that pro-life pregnancy help centers offer better and less expensive services than abortion facilities. In particular, it found that pregnancy centers had shorter appointment wait times than abortion facilities and were considerably more likely to offer same-day appointments. Even more important, it found that abortion facilities frequently charge for pregnancy tests and ultrasounds whereas pregnancy help centers almost never charge for these services. The study is strong methodologically. The authors paired up 445 abortion facilities with a nearby pregnancy help center. Data from all 50 states were collected and analyzed. The authors found that over 68 percent of pregnancy help centers offered same-day pregnancy visits as compared with only about 32 percent of abortion facilities. Furthermore, only a very small percentage of the pro-life pregnancy centers included in the study charged for either pregnancy tests or ultrasounds. Conversely, at abortion facilities, the median price for a pregnancy test was $24, and the median price for an ultrasound was just over $162.
VARIA / OUR SUNDAY VISITOR / 2-8-2023
In Florida, Polk County Sheriff Grady Judd named the baby Angel Grace LNU because, he said, "she is as beautiful as an angel, it's by the grace of God she is not dead, and LNU is 'last name unknown.'" "The state has a Safe Haven law," Bruchey explained, "and it's good that there is a program like A Safe Haven for Newborns — that if a mother can't take care of a baby there is a Safe Haven: fire and police stations, hospitals — wherever the Safe Haven sign is posted — a mother can drop off her baby to a staff person and there are no questions asked." Archbishop Thomas G. Wenski of Miami said, "We can imagine the desperation that moves a mother to abandon her child. We thank God that A Safe Haven for Newborns is available. But there can be more options between abortion and abandonment." "Walking with Moms in Need is a way to accompany mothers in crises," he said, referring to a U.S. bishops' parish-based pro-life initiative. "A helping hand, a listening ear can help reveal to a despairing mother a ray of hope for a better tomorrow both for herself and her child." All 50 states and several other countries have safe haven laws, offering mothers protection from prosecution for relinquishing their newborns in a safe manner. Twelve states offer professional training for a Safe Haven program, and there are programs already in place in several states.
VARIA / GALLUP POLL / 2-10-2023
WASHINGTON, D.C. -- Americans are more dissatisfied with U.S. abortion policies now than they have been at any point in Gallup's 23-year trend, and those who are dissatisfied are three times as likely to prefer less strict rather than more strict abortion laws. The record-high 69% of U.S. adults dissatisfied with abortion laws includes 46% who prefer that these laws be made less strict, marking a 16-percentage-point jump in this sentiment since January 2022. In addition, 15% of Americans are dissatisfied and favor stricter laws, and 8% are dissatisfied but want them to stay the same. Meanwhile, 26% of Americans are satisfied with the nation's abortion policies, similar to last year's 24% record low. Between 2001 and 2021, the percentage of Americans dissatisfied with U.S. abortion policies ranged from 43% (in 2002 and 2008) to 58% (in 2020). During this time, those who expressed dissatisfaction were significantly more likely to do so because they typically didn't think the laws were strict enough rather than too strict.
PERSONHOOD ALLIANCE / 2-11-2023
Not only did President Biden firmly recommit to his pro-abortion position during the State of the Union address, but his administration continues to aggressively mobilize every resource at its disposal to flood the United States with the deadly abortion pill. A BIG THANK YOU to everyone who participated in the protests against CVS and Walgreens opposing their attempt to turn our neighborhood pharmacies into abortion centers. Over 22,000 of you signed the petition and hundreds of you went to protest in person at your local pharmacy. On another front in this all-out battle over chemical abortion, the pro-life law firm, Alliance Defending Freedom sued the FDA for improperly approving the sale of the chemical abortion pills.
PRIESTS FOR LIFE / FRANK PAVONE / 2-12-2023
This week on Prolife Primetime News, anchor Leslie Palma will discuss a case expected to be decided soon in a federal courtroom in Amarillo, Texas. Attorneys at Alliance Defending Freedom, representing pro-life medical groups and physicians, is challenging the way mifepristone, the first drug in to the two-pill chemical abortion regimen, was approved by the FDA in 2000. The suit claims that political pressure from then-President Bill Clinton prompted the agency to overlook "intense side effects." A favorable ruling from the judge could end the sale of mifepristone.
STUDENTS FOR LIFE ACTION / KRISTAN HAWKINS / 2-15-2023
Amazon is ending their charitable donation program, AmazonSmile, on February 20th.
I think they might have killed the whole thing to avoid having to support us. The program allowed shoppers to pick a non-profit to be the recipient of a percentage of their purchases as a free donation. I am so grateful Students for Life was fortunate enough to have so many pro-lifers choose us to receive that donation. The $37,166.21 that we received from the program – thanks to the generosity of pro-life Amazon shoppers - helped fund a lot of Students for Life's lifesaving programs. With nearly 1,400 student groups, we have an on-the-ground presence in high schools and college campuses across the nation. Where it matters. Nearly 80% of Planned Parenthood facilities are located within five miles of a college campus.
VARIA / CATHOLIC VOTE / 2-18-2023
In 2019, the Trump administration implemented a new federal regulation, called a rule, which strengthened conscience protections for Catholic healthcare workers. It ensured that Catholic doctors, nurses, and other healthcare professionals could not be compelled to assist in procedures they believe are immoral, including abortion, transgender mutilation surgeries, sterilizations, assisted suicides, and others. It also strengthened protections for Catholic hospitals and other faith-based medical practices to be able to care for patients without being compelled to offer immoral procedures.
Now the Biden administration, led by self-identified Catholic Xavier Becerra at the Department of Health & Human Services, has proposed rescinding the Trump rule and weakening these conscience protections. Legal scholars warn that this change could result in firings of Catholic healthcare workers and jeopardize funding for Catholic hospitals.
If you are a medical professional yourself -- doctor, nurse, therapist, etc. -- we especially encourage you to write about how important your conscience rights are in your practice of health care. Deadline: March 6, 2023
CATHOLIC ACTION NETWORK
Please consider joining the New York State Catholic Conference. The web site is nyscatholic.org You will stay informed and responsive to your legislators in a timely and straight forward manner.
The Catholic Action Network (CAN), an arm of the New York State Catholic Conference, gives us all a larger voice in the halls of government. Through our email and social media alerts, CAN reaches tens of thousands of Catholics like you to provide educational updates on the important issues being debated and to provide you with the tools to simplify the process of contacting your elected officials. As an example, you will have access to the following:
PRIESTS FOR LIFE / FRANK PAVONE / 2-19-2023
Pro-life laws in the works: Now that Roe is gone, legislatures in red states are busy crafting laws protecting babies from abortion. Bills include one in Iowa to increase funding for pregnancy resource centers; a proposal in Arkansas to mandate that companies that pay for employees to go out of state for abortion also fund a 12-week maternity leave for workers who choose life, and a bill to protect babies from abortion once a heartbeat can be detected.
Another baby saved: A Baby Box in Bowling Green, Kentucky, was the first in the state and the 24th in the nation to have an infant surrendered safely by a parent unable to care for the child.
RESPECT LIFE OFFICE / Sr. VIRGINIA JOY, SV /2-21-23
40 Days for Life is a life-saving prayer campaign that will take place throughout our Archdiocese starting February 22 and concluding April 2. 40 Days for Life is a peaceful initiative consisting of 40 days of prayer, fasting, and peaceful vigil at abortion facilities with the goal of protecting mothers and their children from abortion. More than 20,000 unborn children have been saved from abortion during 40 Days for Life campaigns. To learn more about 40 Days for Life, visit: www.40daysforlife.com
STUDENTS FOR LIFE / KRISTAN HAWKINS / 2-23-2023
Gaining a foothold on all four-year college and university campuses across these key states will allow us to:
Counter Planned Parenthood propaganda on campuses and save lives through our Standing with Her Initiative, which provides everything from diapers to babysitting help to young moms, so pregnant young women won't believe the lie that they need abortion to continue their education.
Reach more young people who we'll turn away from Planned Parenthood's political operatives.
Educate more young people to Vote Pro-Life First in 2024.
Train new leaders to gather ballots from their pro-life classmates and end the Abortion Lobby's dominance in this critical area.
THE WEEKEND LOOP FROM CATHOLIC VOTE / 2/25/2003
President Biden recently signed an executive order to promote the Diversity Equity and Inclusion (DEI) movement in the federal bureaucracy. The move has received little coverage in the corporate media. Reporter Tim Meads says the order essentially creates an "army of equity bureaucrats" in the federal government to enforce the principles of critical race theory and gender identity in society. The Manhattan Institute's Christopher Rufo condemned the Biden administration's quiet move, saying it "manipulates language and statistics in order to nationalize the DEI movement, suppress dissent from the new racial orthodoxy, and subvert the Constitution's promise of equal treatment under the law. " Rufo further explains that DEI jobs are "fake ideological and political jobs" that only work to condition companies both in the public and private sectors into accepting radical agendas and to weed out any dissent.
CATHOLIC ACTION NETWORK / NY STATE CATHOLIC CONFERENCE / 2/28/2023
RADICAL SOLIDRIATY IS A Pro-Life, Pro-Woman Legislative Agenda for New York. To be truly pro-life is to care for people from life's beginning to its natural end. Moms and babies deserve the full support of society not just to survive, but to thrive. As New York continues to prioritize only one choice for vulnerable women, we offer a different vision. True choice exists when women, mothers, children, and families are supported. We stand in radical solidarity with moms and their children through the following pro-life agenda:
► Prenatal Care and Maternal Health
► Empire State Child Tax Credit
► Adoption Tax Credit
► Childcare Expansion
► Educational Options
► Affordable Housing
► Domestic Violence Issues
► Nutrition
► Paid Parental Leave
THE WEEKEND LOOP FROM CATHOLIC VOTE / 1/7/2023
CVS AND WALGREENS TO SELL ABORTION DRUG…. Retail pharmacy giants CVS and Walgreens have announced they intend to fill prescriptions for the abortion drug mifepristone immediately after the Biden administration's Food and Drug Administration changed its rules to allow it. Mifepristone is the first of the two pills used in a chemical abortion. The drug ends an unborn life by cutting off the nutrients necessary for the baby to live.
FAMILY AND PRO-LIFE NEWS BRIEFS / DR. FRANK TINARI / PROF EMERITUS, SEATON HALL UNIVERSITY
Two studies have found that chemical abortions have four times the complication rate as surgical abortions. One study used comprehensive data from the California Medicaid program from 2009 to 2010. Another analyzed 2,000 Finnish women who obtained abortions between 2000 and 2006. Loosening the regulations on chemical abortions will only increase those risks. [Michael New, LifeNews.com, 1/13/23] The 2023 label removes the requirements for pill dispensers to advise patients that, should they require emergency care after taking the drug, they ought to let emergency department healthcare providers know that they are undergoing a medication abortion. With the government's elimination of common-sense restrictions on dispensing abortion drugs, data on abortion rates and complications are unreliable at best. According to the pro-abortion Alan Guttmacher Institute, only 28 states require abortionists to report post-abortion complications. This is exactly what Planned Parenthood and other abortionists want: zero factual reporting, zero accountability. It is clear what the federal administration leadership really wants. Thankfully, a lawsuit has been filed against the FDA. One of the plaintiffs is the American Assoc. of Pro-Life Obstetricians and Gynecologists.
AS NOTED PREVIOUSLY:
THE WEEKEND LOOP FROM CATHOLIC VOTE / 10-08-2022
Pro-abortion groups are working to get abortion pills to pregnant woman via internet consultations side stepping state pro-life laws. Pro-Life Obstetricians and Gynecologists warn against taking the pill without medical supervision which is becoming more common.
The pill may result in dangerous health complications or even maternal mortalities. The abortion industry is downplaying the risks.
Using telemedicine, without an ultrasound, misdating a pregnancy, which is targeted at 10 weeks gestation or less, may result in a need to complete the abortion surgically. After 13 weeks, chances of surgical completion are one out of three.
Medical abortion will not end an undetected ectopic pregnancy. If the embryo ruptures the fallopian tube, thinking the symptoms are those expected during medical abortion, a mother may not seek medical care. That could lead to a life threating situation for her.
Abortion pills are being marketed as a good substitute for women who are remote from healthcare access. If it takes an aborting woman two hours to get to a hospital for emergency surgical services, it requires more time for her to receive the life-saving emergency care she may need.
A blood test is required to screen for Rh compatibility to prevent isoimmunization, an immune reaction. An immune reaction in the next pregnancy results in fetal loss. With a proper diagnosis, it is completely preventable.
Doctors warn that telehealth visits are poor substitutes for in-office exams. The danger that the woman on the other end may not be the person the medication is intended for. This may result in abuse by coerced or forced abortions.
Doctors warn that mothers may not be prepared to view the remains of the child.
NOTICIAS DE VIDA PARA FEBRERO 2023
ACCIÓN DE ESTUDIANTES PARA LA VIDA / KRISTAN HAWKINS / 2-1-2023
La Ley de Protección de Sobrevivientes de Aborto Nacidos Vivos (H.R. 26) garantizaría que los bebés nacidos vivos después de un aborto fallido reciban la atención médica adecuada. Este proyecto de ley debería haber sido aprobado por la Cámara por unanimidad. Pero, lamentablemente, ¡solo UN demócrata de la Cámara votó para aprobar el proyecto de ley! Gracias a la nueva mayoría republicana en la Cámara, la lucha para promulgar esta legislación ahora se ha trasladado al Senado de los EE. UU.... pero los demócratas a favor del aborto aún tienen la mayoría.
SACERDOTES DE POR VIDA / FRANK PAVONE / 2-2-2023
A la medianoche del 24 de enero, DirecTV anunció que eliminaría la cadena de noticias conservadora Newsmax de su lista de canales, luego de que One America News se eliminara en la primavera de 2022. Senadores Ted Cruz de Texas, Mike Lee de Utah, Tom Cotton de Arkansas , y Lindsey Graham de Carolina del Sur se comunicaron con los directores ejecutivos de DirecTV, AT&T y TPG en una carta fechada el 1 de febrero de 2023. Dice en parte lo siguiente: "Parece que esta decisión puede ser el último ejemplo de cómo las grandes empresas reprimen discurso políticamente desfavorecido a instancias de los demócratas liberales... Le escribimos para solicitar información detallada y específica sobre las acciones de DirecTV. "El Congreso y el público tienen derecho a saber hasta qué punto la decisión de DirecTV de abandonar Newsmax tuvo motivaciones políticas, incluso si la empresa sucumbió a la presión de los funcionarios de la administración o de los demócratas en el Congreso. "La decisión de DirectTV sigue a las recientes revelaciones de colusión entre las grandes empresas tecnológicas y los funcionarios demócratas para etiquetar el discurso conservador como 'desinformación' y censurarlo. El silenciamiento del discurso conservador a pedido de los funcionarios del gobierno es un ataque directo a la libertad de expresión y una amenaza a la democracia".
RED DE ACCIÓN CATÓLICA / 2-3-2023
PROPUESTA DE PRESUPUESTO EJECUTIVO DEL GOBERNADOR
Áreas de Oposición:
• Acceso al aborto en campus universitarios públicos (S9444-A)
• Protecciones de privacidad de datos para servicios de aborto
• Acceso a anticonceptivos recetados de venta libre.
• Proyecto de ley S1003 -A - Senador Hinchey - Exclusiones basadas en políticas Este proyecto de ley requeriría que el comisionado de salud recopile de cada centro de atención médica una lista de sus exclusiones basadas en políticas y publique dicha información en el sitio web del departamento. Como parte de su búsqueda incesante para expandir y promover el aborto excluyendo todo lo demás, la Legislatura de Nueva York últimamente ha estado apuntando a los hospitales católicos a través de la retórica y la legislación. Este proyecto de ley, si bien tiene cuidado de no nombrarlos específicamente, busca difamar a estas instituciones avergonzándolos públicamente e insinuando que brindan una atención deficiente.
ALIANZA PERSONALIDAD / 2-4-2023
• Pro-Lifer Mark Houck derrota la vendetta de la administración Biden contra el movimiento Pro-Life.
• La legislatura de Carolina del Sur se enfrenta a la Corte Suprema a favor del aborto que promueve la Ley de Protección de la Vida Humana
• Se planificó una protesta nacional contra CVS y Walgreens para el 4 de febrero.
NOTA: Hay un alboroto creciente por la decisión de las farmacias más grandes de Estados Unidos de comenzar a vender medicamentos abortivos químicos que matarán a los niños en el útero. Una petición de Citizen Go y Personhood Alliance está cerca de alcanzar los 20,000 firmantes al momento de escribir esta historia; otro del Family Research Council ha superado las 50.000 firmas.

VARIA / REVISTA NACIONAL / 2-7-2023
Un estudio reciente en la revista Contraception debería ser de interés para los defensores de la vida, especialmente aquellos interesados en el trabajo de los centros de ayuda para el embarazo. Proporciona evidencia estadística muy sólida de que los centros de ayuda para el embarazo pro-vida ofrecen servicios mejores y menos costosos que las instalaciones de aborto. En particular, encontró que los centros de embarazo tenían tiempos de espera de citas más cortos que los centros de aborto y era considerablemente más probable que ofrecieran citas el mismo día. Aún más importante, encontró que las instalaciones de aborto con frecuencia cobran por las pruebas de embarazo y las ecografías, mientras que los centros de ayuda al embarazo casi nunca cobran por estos servicios. El estudio es fuerte metodológicamente. Los autores vincularon 445 centros de aborto con un centro de ayuda para el embarazo cercano. Se recopilaron y analizaron datos de los 50 estados. Los autores encontraron que más del 68 por ciento de los centros de ayuda para el embarazo ofrecían visitas de embarazo el mismo día en comparación con solo alrededor del 32 por ciento de las instalaciones de aborto. Además, solo un porcentaje muy pequeño de los centros de embarazo pro-vida incluidos en el estudio cobraron por las pruebas de embarazo o las ecografías. Por el contrario, en las instalaciones de aborto, el precio medio de una prueba de embarazo era de $24 y el precio medio de una ecografía era de poco más de $162.
VARIA / NUESTRO VISITANTE DEL DOMINGO / 2-8-2023
En Florida, el alguacil del condado de Polk, Grady Judd, nombró a la bebé Angel Grace LNU porque, dijo, "ella es tan hermosa como un ángel, es por la gracia de Dios que no está muerta, y LNU es 'apellido desconocido'". El estado tiene una ley de Refugio Seguro", explicó Bruchey, "y es bueno que haya un programa como Un Refugio Seguro para los Recién Nacidos, que si una madre no puede cuidar a un bebé, hay un Refugio Seguro: estaciones de policía y de bomberos. , hospitales, dondequiera que se coloque el cartel de Safe Haven, una madre puede dejar a su bebé con un miembro del personal y no se hacen preguntas". El arzobispo Thomas G. Wenski de Miami dijo: "Podemos imaginar la desesperación que mueve a una madre a abandonar a su hijo. Agradecemos a Dios que A Safe Haven for Newborns esté disponible. Pero puede haber más opciones entre el aborto y el abandono". "Caminar con mamás necesitadas es una forma de acompañar a las madres en crisis", dijo, refiriéndose a una iniciativa pro-vida basada en parroquias de los obispos de EE. UU. "Una mano amiga, un oído que escucha puede ayudar a revelar a una madre desesperada un rayo de esperanza de un mañana mejor tanto para ella como para su hijo". Los 50 estados y varios otros países tienen leyes de refugio seguro, que ofrecen a las madres protección contra el enjuiciamiento por renunciar a sus recién nacidos de manera segura. Doce estados ofrecen capacitación profesional para un programa Safe Haven, y ya existen programas en varios estados.
VARIA / ENCUESTA GALLUP / 2-10-2023
WASHINGTON, D.C. -- Los estadounidenses están más insatisfechos con las políticas de aborto de EE. UU. ahora que en cualquier otro momento de la tendencia de 23 años de Gallup, y aquellos que están insatisfechos tienen tres veces más probabilidades de preferir leyes de aborto menos estrictas en lugar de más estrictas. El récord del 69 % de adultos estadounidenses insatisfechos con las leyes sobre el aborto incluye un 46 % que prefiere que estas leyes sean menos estrictas, lo que marca un salto de 16 puntos porcentuales en este sentimiento desde enero de 2022. Además, el 15 % de los estadounidenses está insatisfecho y están a favor de leyes más estrictas, y el 8% está insatisfecho pero quiere que sigan igual. Mientras tanto, el 26 % de los estadounidenses está satisfecho con las políticas de aborto del país, similar al mínimo histórico del 24 % del año pasado. Entre 2001 y 2021, el porcentaje de estadounidenses insatisfechos con las políticas de aborto de EE. UU. osciló entre el 43 % (en 2002 y 2008) y el 58 % (en 2020). Durante este tiempo, era significativamente más probable que aquellos que expresaron su insatisfacción lo hicieran porque, por lo general, no creían que las leyes fueran lo suficientemente estrictas en lugar de demasiado estrictas.
ALIANZA PERSONAJE / 2-11-2023
El presidente Biden no solo volvió a comprometerse firmemente con su posición a favor del aborto durante el discurso del Estado de la Unión, sino que su administración continúa movilizando agresivamente todos los recursos a su disposición para inundar los Estados Unidos con la píldora abortiva mortal. MUCHAS GRACIAS a todos los que participaron en las protestas contra CVS y Walgreens oponiéndose a su intento de convertir las farmacias de nuestros vecindarios en centros de aborto. Más de 22,000 de ustedes firmaron la petición y cientos de ustedes fueron a protestar en persona a su farmacia local. En otro frente de esta batalla total sobre el aborto químico, el bufete de abogados provida Alliance Defending Freedom demandó a la FDA por aprobar indebidamente la venta de las píldoras abortivas químicas.
SACERDOTES DE POR VIDA / FRANK PAVONE / 2-12-2023
Esta semana en Prolife Primetime News, la presentadora Leslie Palma discutirá un caso que se espera que se decida pronto en un tribunal federal en Amarillo, Texas. Los abogados de Alliance Defending Freedom, que representan a médicos y grupos médicos pro-vida, cuestionan la forma en que la FDA aprobó en 2000 la mifepristona, el primer fármaco incluido en el régimen de aborto químico de dos pastillas. La demanda afirma que la presión política de entonces -El presidente Bill Clinton instó a la agencia a pasar por alto los "efectos secundarios intensos". Un fallo favorable del juez podría poner fin a la venta de mifepristona.
ACCIÓN DE ESTUDIANTES PARA LA VIDA / KRISTAN HAWKINS / 15-2-2023
Amazon está finalizando su programa de donaciones benéficas, AmazonSmile, el 20 de febrero.
Creo que podrían haber matado todo para evitar tener que apoyarnos. El programa permitió a los compradores elegir una organización sin fines de lucro para recibir un porcentaje de sus compras como donación gratuita. Estoy muy agradecido de que Students for Life haya tenido la suerte de que tantos defensores de la vida nos elijan para recibir esa donación. Los $ 37,166.21 que recibimos del programa, gracias a la generosidad de los compradores pro-vida de Amazon, ayudaron a financiar muchos programas de salvamento de Students for Life. Con casi 1400 grupos de estudiantes, tenemos presencia en las escuelas secundarias y campus universitarios de todo el país. Donde importa. Casi el 80% de las instalaciones de Planned Parenthood están ubicadas dentro de las cinco millas de un campus universitario.
VARIA / VOTO CATÓLICO / 18-2-2023
En 2019, la administración Trump implementó una nueva regulación federal, llamada regla, que fortaleció las protecciones de conciencia para los trabajadores católicos de la salud. Aseguró que los médicos, enfermeras y otros profesionales de la salud católicos no podrían verse obligados a ayudar en procedimientos que consideran inmorales, incluidos el aborto, las cirugías de mutilación transgénero, las esterilizaciones, los suicidios asistidos y otros. También fortaleció las protecciones para los hospitales católicos y otras prácticas médicas basadas en la fe para poder atender a los pacientes sin verse obligados a ofrecer procedimientos inmorales.
Ahora, la administración de Biden, dirigida por el autoidentificado católico Xavier Becerra en el Departamento de Salud y Servicios Humanos, ha propuesto rescindir la regla de Trump y debilitar estas protecciones de conciencia. Los juristas advierten que este cambio podría resultar en el despido de trabajadores de la salud católicos y poner en peligro la financiación de los hospitales católicos.
Si usted mismo es un profesional médico (médico, enfermera, terapeuta, etc.), lo alentamos especialmente a que escriba sobre la importancia de sus derechos de conciencia en su práctica de atención médica. Fecha límite: 6 de marzo de 2023
RED DE ACCIÓN CATÓLICA
Considere unirse a la Conferencia Católica del Estado de Nueva York. El sitio web es nyscatholic.org. Se mantendrá informado y responderá a sus legisladores de manera oportuna y directa.
La Red de Acción Católica (CAN), un brazo de la Conferencia Católica del Estado de Nueva York, nos da a todos una voz más amplia en los pasillos del gobierno. A través de nuestras alertas por correo electrónico y redes sociales, CAN llega a decenas de miles de católicos como usted para brindarles actualizaciones educativas sobre los temas importantes que se debaten y brindarles las herramientas para simplificar el proceso de contacto con sus funcionarios electos. A modo de ejemplo, tendrá acceso a lo siguiente:
SACERDOTES DE POR VIDA / FRANK PAVONE / 19-2-2023
Leyes pro-vida en proceso: ahora que Roe se fue, las legislaturas en los estados republicanos están ocupadas elaborando leyes que protegen a los bebés del aborto. Los proyectos de ley incluyen uno en Iowa para aumentar la financiación de los centros de recursos para el embarazo; una propuesta en Arkansas para obligar a las empresas que pagan a las empleadas a abortar fuera del estado también financien una licencia de maternidad de 12 semanas para las trabajadoras que eligen la vida, y un proyecto de ley para proteger a los bebés del aborto una vez que se puede detectar un latido del corazón.
Otro bebé salvado: A Baby Box en Bowling Green, Kentucky, fue el primero en el estado y el 24 en la nación en tener un bebé entregado de manera segura por un padre que no podía cuidar al niño.
OFICINA RESPETO A LA VIDA / Hna. VIRGINIA JOY, SV /21-2-23
40 Días por la Vida es una campaña de oración para salvar vidas que se llevará a cabo en toda nuestra Arquidiócesis a partir del 22 de febrero y finalizará el 2 de abril. 40 Días por la Vida es una iniciativa pacífica que consiste en 40 días de oración, ayuno y vigilia pacífica en centros de aborto con el objetivo de proteger a las madres y a sus hijos del aborto. Más de 20.000 niños por nacer
se han salvado del aborto durante las campañas de 40 Días por la Vida. Para obtener más información sobre 40 Días por la Vida, visite: www.40daysforlife.com
ESTUDIANTES DE POR VIDA / KRISTAN HAWKINS / 23-2-2023
Posicionarnos en todos los campus universitarios y universitarios de cuatro años en estos estados clave nos permitirá:
Contrarreste la propaganda de Planned Parenthood en los campus y salve vidas a través de nuestra iniciativa Standing with Her, que brinda de todo, desde pañales hasta ayuda para cuidar niños, para madres jóvenes, para que las mujeres jóvenes embarazadas no crean la mentira de que necesitan abortar para continuar con su educación.
Llegue a más jóvenes a quienes alejaremos de los agentes políticos de Planned Parenthood.
Educar a más jóvenes para Votar Pro-Vida Primero en 2024.
Capacitar a nuevos líderes para recolectar boletas de sus compañeros de clase pro-vida y terminar con el dominio del Lobby del Aborto en esta área crítica.
EL BUCLE DEL FIN DE SEMANA DEL VOTO CATÓLICO / 25/2/2003
El presidente Biden firmó recientemente una orden ejecutiva para promover el movimiento Diversity Equity and Inclusion (DEI) en la burocracia federal. La medida ha recibido poca cobertura en los medios corporativos. El reportero Tim Meads dice que la orden esencialmente crea un "ejército de burócratas de la equidad" en el gobierno federal para hacer cumplir los principios de la teoría crítica de la raza y la identidad de género en la sociedad. Christopher Rufo, del Instituto Manhattan, condenó el movimiento silencioso de la administración Biden y dijo que "manipula el lenguaje y las estadísticas para nacionalizar el movimiento DEI, reprimir la disidencia de la nueva ortodoxia racial y subvertir la promesa de la Constitución de igualdad de trato ante la ley. Rufo explica además que los trabajos de DEI son "trabajos ideológicos y políticos falsos" que solo funcionan para condicionar a las empresas, tanto en el sector público como en el privado, a aceptar agendas radicales y eliminar cualquier disidencia.
RED DE ACCIÓN CATÓLICA / CONFERENCIA CATÓLICA DEL ESTADO DE NY / 28/02/2023
SOLIDRIACIÓN RADICAL ES UNA Agenda Legislativa Pro-Vida, Pro-Mujer para Nueva York. Ser verdaderamente pro-vida es cuidar a las personas desde el comienzo de la vida hasta su final natural. Las mamás y los bebés merecen todo el apoyo de la sociedad no solo para sobrevivir, sino también para prosperar. Como Nueva York sigue dando prioridad a una sola opción para las mujeres vulnerables, ofrecemos una visión diferente. La verdadera elección existe cuando se apoya a las mujeres, las madres, los niños y las familias. Nos solidarizamos radicalmente con las mamás y sus hijos a través de la siguiente agenda pro-vida:
► Atención Prenatal y Salud Materna
► Crédito Tributario por Hijos del Empire State
► Crédito Tributario por Adopción
► Expansión de Guardería
► Opciones educativas
► Vivienda asequible
► Problemas de violencia doméstica
► Nutrición
► Permiso de Paternidad Pagado
EL BUCLE DEL FIN DE SEMANA DEL VOTO CATÓLICO / 1/7/2023
CVS Y WALGREENS PARA VENDER DROGAS PARA EL ABORTO…. Los gigantes de las farmacias minoristas CVS y Walgreens han anunciado que tienen la intención de surtir las recetas del medicamento abortivo mifepristona inmediatamente después de que la Administración de Alimentos y Medicamentos de la administración Biden cambiara sus reglas para permitirlo. La mifepristona es la primera de las dos píldoras utilizadas en un aborto químico. La droga pone fin a la vida no nacida al cortar los nutrientes necesarios para que el bebé viva.
BREVES DE NOTICIAS FAMILIARES Y PRO-VIDA / DR. FRANK TINARI / PROF EMERITUS, UNIVERSIDAD DE SEATON HALL
Dos estudios han encontrado que los abortos químicos tienen una tasa de complicaciones cuatro veces mayor que los abortos quirúrgicos. Un estudio utilizó datos completos del programa Medicaid de California de 2009 a 2010. Otro analizó a 2000 mujeres finlandesas que abortaron entre 2000 y 2006. Relajar las regulaciones sobre abortos químicos solo aumentará esos riesgos. [Michael New, LifeNews.com, 13/1/23] La etiqueta 2023 elimina los requisitos para los dispensadores de píldoras para informar a los pacientes que, si necesitan atención de emergencia después de tomar el medicamento, deben informar a los proveedores de atención médica del departamento de emergencias que están someterse a un aborto con medicamentos. Con la eliminación por parte del gobierno de las restricciones de sentido común sobre la dispensación de medicamentos abortivos, los datos sobre las tasas de aborto y las complicaciones son, en el mejor de los casos, poco fiables. Según el Instituto Alan Guttmacher pro-aborto, solo 28 estados requieren que los abortistas informen las complicaciones posteriores al aborto. Esto es exactamente lo que quieren Planned Parenthood y otros abortistas: cero informes fácticos, cero responsabilidad. Está claro lo que realmente quiere el liderazgo de la administración federal. Afortunadamente, se ha presentado una demanda contra la FDA. Uno de los demandantes es la American Assoc. de Obstetras y Ginecólogos Pro-Vida.
COMO SE INDICA ANTERIORMENTE:
EL BUCLE DEL FIN DE SEMANA DEL VOTO CATÓLICO / 10-08-2022
Los grupos a favor del aborto están trabajando para hacer llegar las píldoras abortivas a las mujeres embarazadas a través de consultas por Internet al margen de las leyes estatales a favor de la vida. Los obstetras y ginecólogos pro-vida advierten contra tomar la píldora sin supervisión médica, lo cual es cada vez más común.
• La píldora puede provocar complicaciones peligrosas para la salud o incluso la mortalidad materna. La industria del aborto está minimizando los riesgos.
• El uso de la telemedicina, sin ultrasonido, la fecha incorrecta de un embarazo, cuyo objetivo es de 10 semanas de gestación o menos, puede resultar en la necesidad de completar el aborto quirúrgicamente. Después de 13 semanas, las posibilidades de que se complete la cirugía son una de cada tres.
• El aborto con medicamentos no pondrá fin a un embarazo ectópico no detectado. Si el embrión rompe la trompa de Falopio, pensando que los síntomas son los esperados durante un aborto con medicamentos, es posible que la madre no busque atención médica. Eso podría conducir a una situación que amenaza la vida de ella.
• Las píldoras abortivas se comercializan como un buen sustituto para las mujeres que se encuentran alejadas del acceso a la atención médica. Si una mujer que aborta tarda dos horas en llegar a un hospital para recibir servicios quirúrgicos de emergencia, necesitará más tiempo para recibir la atención de emergencia que pueda necesitar para salvarle la vida.
• Se requiere un análisis de sangre para detectar la compatibilidad Rh para prevenir la isoinmunización, una reacción inmunitaria. Una reacción inmunitaria en el siguiente embarazo da como resultado la pérdida fetal. Con un diagnóstico adecuado, es completamente prevenible.
• Los médicos advierten que las visitas de telesalud son sustitutos deficientes de los exámenes en el consultorio. El peligro de que la mujer del otro lado no sea la persona a la que está destinado el medicamento. Esto puede resultar en abuso mediante abortos forzados o bajo coacción.
• Los médicos advierten que las madres pueden no estar preparadas para ver los restos del niño.
PUBLIC POLICY WEBSITES FOR FEDERAL
AND NEW YORK STATE LEGISLATION
WE CAN STAY INFORMED AND REACT TO SPECIFIC LEGISLATION
NEW YORK STATE ….
NYSCATHOLIC.ORG

FOR: NEW YORK STATE CATHOLIC CONFERENCE
@ 518-434-6195 /NYS-CATHOLIC-CONFERENCE-ACTION-CENTER
NYSRIGHTTOLIFE.ORG FOR: NEW YORK STATE RIGHT TO LIFE @ 518-434-1293
--------------------------------------------------------------------------------------------------------------------------------------------------------------
NATIONAL….
FEDERALLEGISLATION@NRLC.ORG FOR: NATIONAL RIGHT TO LIFE PROVIDING YOUR REPRESENTATIVES VOTING RECORD ON LIFE ISSUES IN CONGRESS @ 202-626-8820
WWW.NCHLA.ORG/ACTION.ASP

FOR: NATIONAL COMMITTEE FOR A HUMAN LIFE AMENDMENT @ 202-393-0703
WWW.PROLIFEALLIANCE.COM

FOR: NATIONAL PRO LIFE ALLIANCE @ 703-321-9200
WWW.ARCHNY.ORG/ FOR: PASTORAL / PUBLIC-POLICY FROM THE ARCHDIOCESE OF NEW YORK PUBLIC POLICY OFFICE @ 646-794-2807
WWW.CATHOLICVOTE.ORG

FOR: CURRENT ISSUES FOR CATHOLIC VOTERS
WWW.PROLIFELI.ORG FOR: LONG ISLAND COALITION FOR LIFE PROVIDES CURRENT INFORMATION ON FEDERAL AND STATE LEGISLATIVE ISSUES… EXCELLENT LEGISLATIVE INFORMATION
WWW.HLI.ORG FOR: HUMAN LIFE INTERNATIONAL / DEFENDING LIFE AND FAMILY AROUND THE WORLD
Ulster Deanery Respect Life Committee © All rights reserved © 05/19/2022