Our booth at the Ellenville Blueberry Festival - 08/13/22 - 9AM to 4PM. Almighty God blessed us with a beautiful day and a busy street in Ellenville, NY. Thanks be to God.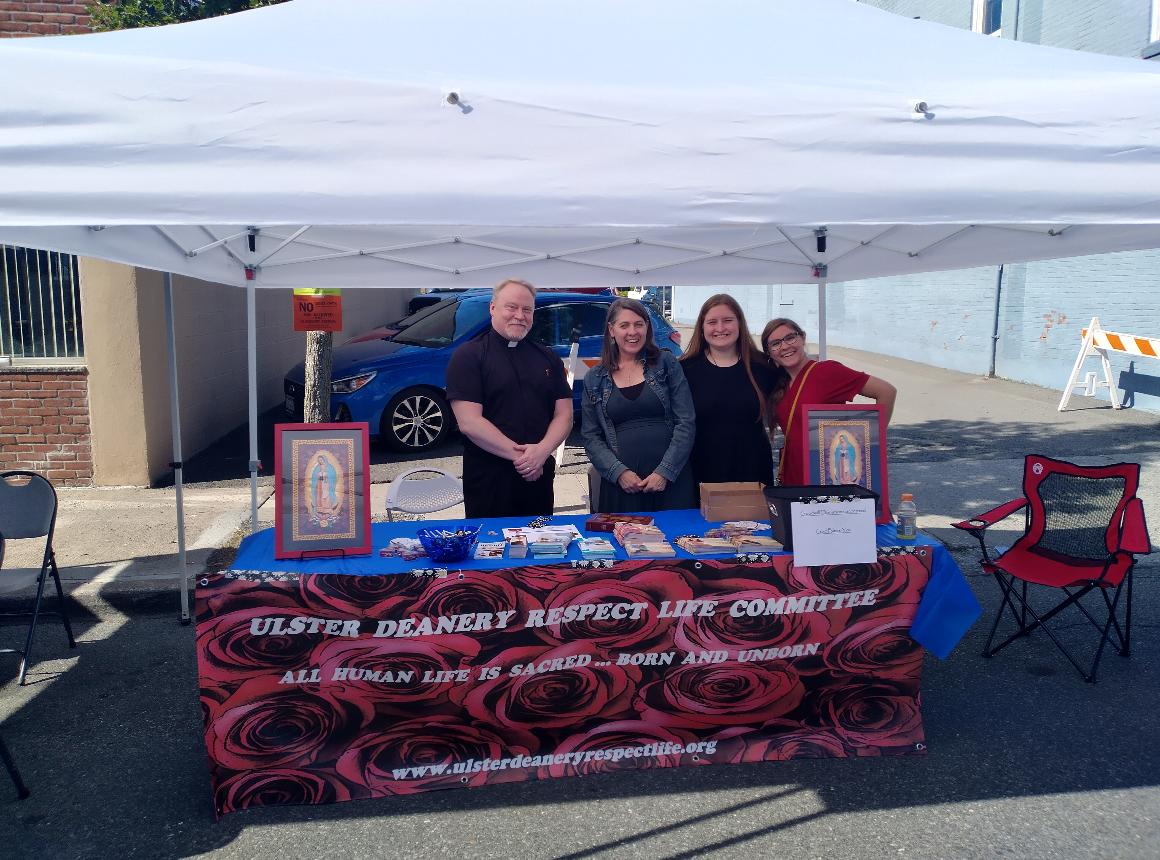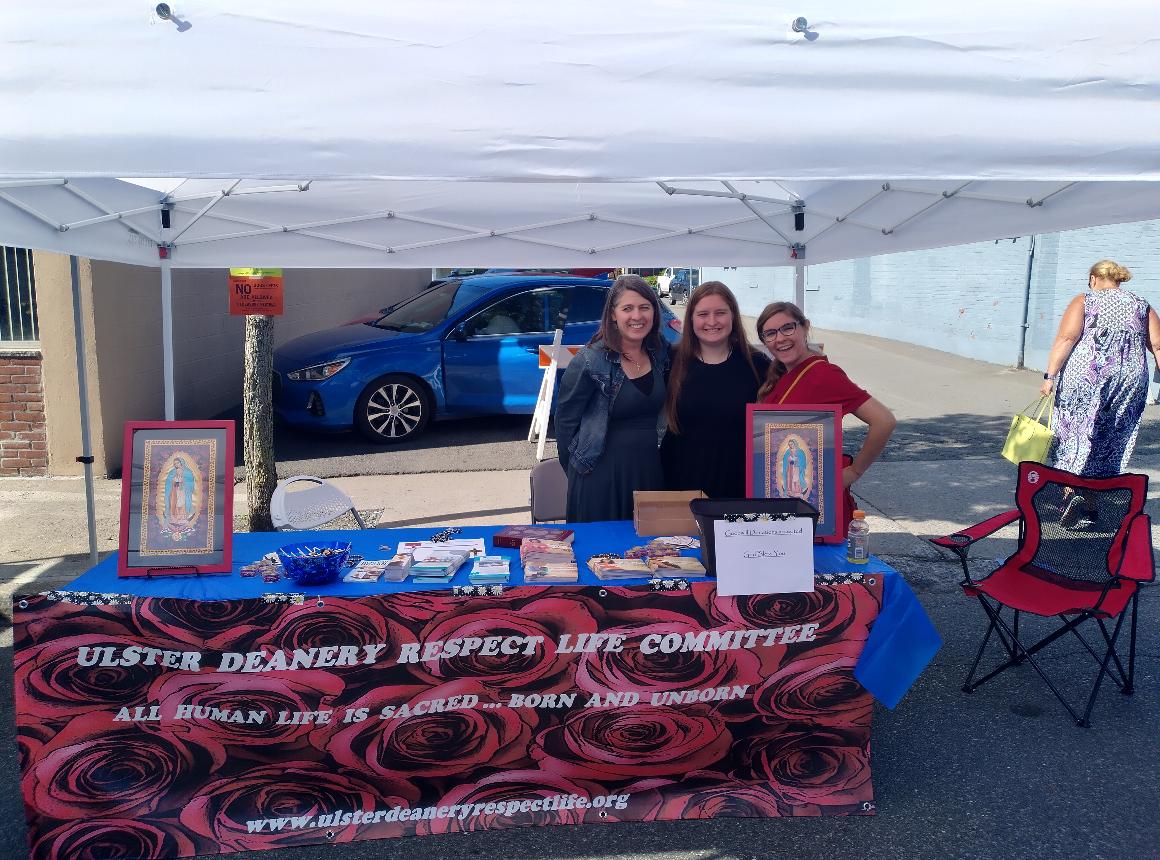 ALLELUIA!
US SUPREME COURT
OVERTURNS
ROE v. WADE - 6 tO 3!
With new hope we pray and persevere for the Pro-Life cause in New York State and Ulster County. We welcome the cooperation of all people of good will.
Happy Feast Day of The Sacred Heart of Jesus.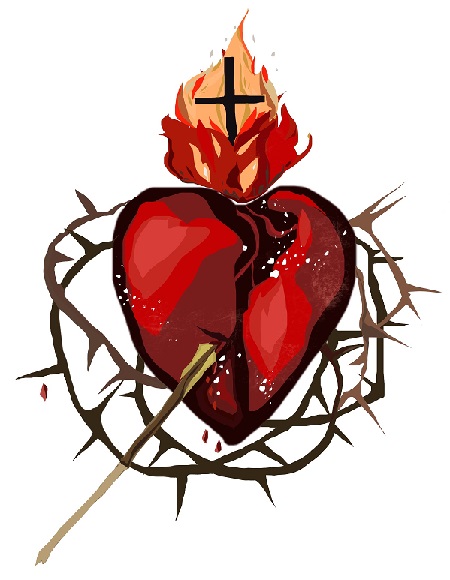 LIFE NEWS FOR JULY 2022
THE WEEKEND LOOP FROM CATHOLIC VOTE / 7-2-2022
Heroes of the month:
· Justice Samuel Alito declared: "Roe was egregiously wrong from the start. Its reasoning was exceptionally weak, and the decision has had damaging consequences. It is time to heed the Constitution and return the issue of abortion to the peoples elected representatives."
· Governor Doug Ducey of Arizona called on the legislature to reform funding of schools by passing a universal school choice funding bill because Catholic families attending Catholic schools pay for education twice, once in taxes and once in tuition. It is the first state in the union to do so.
· Bishop Robert J. McManus of Worcester for challenging the Jesuit Nativity School of Worcester for displaying a Black Lives Matter flag despite the stated goal to "disrupt the nuclear family structure" and support of the LGBQT movement which is dramatically opposed the the Church teaching on human sexuality. The mass and sacraments are no longer permitted on the school grounds.
Zeroes of the month:
· President Biden smeared the Supreme Court for their "outrageous behavior" which he called "destabilizing."
· HHS Secretary Xavier Becerra is currently publicizing AbortionFinder.org. He called the Supreme Court's decision "despicable." He also supports radical sex changes for grade school children.
· Justice Sonia Sotomayor joined the dissent opinion which read: "From the moment of fertilization, a woman has no rights to speak of. A state can force her to bring a pregnancy to term, even at the steepest personal and familial costs." The justice also believes a school coach should have no right to voluntary prayer in public.
· Speaker Nancy Pelosi's relentless advocacy for abortion caused San Francisco Archbishop Cordileone to ban her from communion. In Rome, she defied the archbishops direct order receiving Holy Communion at a Mass with the Pope showing no respect for the teachings and shepherds of the Church.
FR. ARTHUR ROJAS / 7-3-2022
A pro-life billboard leased by the Ulster Deanery Respect Life Committee was damaged by vandals in Esopus overnight on June 20-21. The Ulster County Sheriff's Department is investigating. This was not the first incident in Ulster County as the Bravo center, a pregnancy support center in Kingston, was vandalized weeks earlier.
LIVE ACTION / 7-06-2022
· The U.S. Department of Health and Human Services has created a new website, ReproductiveRights.gov, aimed at directing Americans to abortion and contraception, including minors. It also says the abortion pill is safe and available to be mailed to their homes. The Biden Administration has made it easier for young girls to access abortion and for predators to find abortion options for their victims.
· Senator Elizabeth warren(D-Mass.) along with fellow pro-abortion senators, introduced legislation last week attacking pro-life pregnancy resource centers that have been helping pregnant women with life affirming options for decades – for free. In a tweet, she noted, "With Roe gone, it's more important than ever to crack down on so-called 'crisis pregnancy centers' that mislead and deceive patients seeking abortion care." The centers tell women about fetal development, abortion procedures and risks, and offer free ultrasounds and material help.
SENATOR MICHELLE HINCHEY / 7-8-2022
During an Extraordinary Session of the State Legislature, the senator and colleagues took action to pass the Equal Rights Amendment (ERA) which begins the process of enshrining the right to an abortion, contraception, and personal autonomy over healthcare decisions in the NYS Constitution. The Senator and colleagues also passed a package of legislation to protect abortion rights including her bill S.9080B, to protect abortion providers from responsibility if they provide abortions for patients from anti-abortion states.
STUDENTS FOR LIFE ACTION / 7-10-2022
U.S. representative Bob Good (R-Va-5) has introduced a discharge petition to force Speaker Pelosi to allow a vote on The Life at Conception Act ahead of the 2022 midterms. If passed, recognizing the scientific fact that life begins at the moment of conception, the act would end abortion-on-demand in America providing stiff penalties for abortionists. The Congress would need 218 House Members to sign House Resolution 1167 – the Discharge Petition to bill H.R. 1011, the Life at Conception Act.
LIVE ACTION / 7-11-2022
President Biden has vowed to see Roe codified into law and appoint pro-abortion judges throughout the country to keep abortion protected. The President has also issued an executive order in response to the Supreme Court decision to overturn Roe v. Wade. It Includes:
· Expands access to abortion pills.
· Strengthens the Obama Administrations birth control mandate.
· Organizes pro bono lawyers to defend anyone facing charges related to abortion.
· Provides three million in new funding for family planning organizations.
· Provides leave for federal employees travelling for abortions.
· Protects access to abortion for female service members.
STUDENTS FOR LIFE ACTION / 7-12-2022
House speaker Nancy Pelosi is calling for abortion-on-demand to be codified into federal law. She has said "It is essential that we protect and expand our pro-choice Majorities in the House and Senate in November so that we can eliminate the filibuster."
LIVE ACTION / 7-14-2022
· Senator Elizabeth Warren has described pregnancy resource centers as "fake clinics" and has introduced legislation to "crack down" on the alleged "misinformation" she accuses pregnancy centers of spreading. Here is why she is wrong:
· Pregnancy centers save lives
· Pregnancy centers serve millions of people annually
· Pregnancy centers provide needed resources – at no charge
· Pregnancy centers save communities money
· Pregnancy center clients rave about services received. Words used to describe these centers include patient, kind, amazing, non-judgmental, exceptional, and professional.
PERSONHOOD ALLIANCE / 7-14-2022
Women who visit the emergency room for complications following a chemical abortion face increased risks if they are misdiagnosed as having had a natural miscarriage. The abortion industry is jeopardizing woman lives by encouraging women not to tell emergency doctors that they took the abortion pill, RU-486. Of the women with miscoded abortion pill complications admitted to hospitals, 86% needed surgery to remove remains of their dead children. Miscoded patients averaged more than three total hospital admissions over 30 days at a rate 78% higher than accurately coded admissions. Recent media coverage claiming that a natural miscarriage and an induced abortion are the same thing amount to encouraging medical malpractice according to Dr. Ingrid Skop, Director of Medical Affairs at the Charlotte Lozier Institute. Complications may include, nausea, vomiting, diarrhea, a higher risk of infection including sepsis, hemorrhage, damage to the uterus, auto-immune disease, blood clots, and complications in future pregnancies.
THE WEEKEND LOOP FROM CATHOLIC VOTE / 7/16/22
The House of Representatives passed the Ensuring Access to Abortion Act, which would ban states from criminalizing those who travel out of state for an abortion. The House also passed the Women's Health Protection Act, but neither is on track to pass the Senate.
AMERICA NEEDS FATIMA / 7-18-22
Our tax dollars help finance Planned Parenthood. Every year Planned Parenthood receives about $528 million in federal funding which covers about 40% of its budget. PP aborted 327,653 babies in one year according to its annual budget. That's 27,304 per month, 910 per day, 37 per hour. A new video from the Center for Medical Progress (CMP) contradicts past claims from PP that the corporation never participated in the sale of aborted body parts but merely donated them and was compensated for expenses.
VARIA / THE HUMAN LIFE REVIEW / 7-19-2022
New York is well known as "the abortion capital of America."
· NY has almost 75,000 abortions every year.
· In 2019 the NY legislature passed the radical "Reproductive Health Act" that removed all statutory limits on abortion.
· The Governor has allocated $10 million to abortion clinics supposedly for security with another $15 million to follow. She has declared NY a "safe haven" for abortion.
· The Attorney general has asked Google to suppress any search results that show pro-life pregnancy centers
· Currently Progressives have put forth a proposed amendment to the state constitution called the "Equality Amendment." It gives maximum constitutional protection to abortion. It adds "sex including pregnancy and pregnancy outcomes" to the list of specially protected categories in the civil rights guarantee of the NY state constitution. This would be treated as a "fundamental right "categorizing it as close to impossible to regulate or restrict. It would apply to "any entity acting in concert with or on behalf of the government – like religious schools, hospitals, or charitable agencies. Neither the state nor federal constitution offers sufficient religious freedom protections for those who object to abortion.
LIVE ACTION / 7-20-2022
Theologian and philosopher Marcel Guarnizo addressed the pro-life's movements confusion over the Dobbs v. Jackson Woman's Health Organization Supreme Court decision overturning Roe v. Wade. It is clearly good news and a sign of progress. It did not confer the right to life for pre-born human beings, nor did it halt persons in power from arbitrarily deciding who lives and dies.
Dobbs did not confer the right to life upon the preborn. The Court did not confirm that a right to life exists or that the child in the womb has equal rights to any of us after birth. The Court decision repeatedly stated the authority to regulate abortion is returned to the people and their elected representatives.
THE WEEKEND LOOP FROM CATHOLIC VOTE / 7-23-2022
Virginias Republican Attorney General and sixteen others threatened legal action against Google if the Big Tech company censors pro-life pregnancy resource centers on its search engine at the urging of government officials.
The growth of Catholic hospital systems impact services. The differing perspectives on these services can clash when a Catholic hospital system seeks to acquire or merge with a non-sectarian hospital. In states where abortion will remain legal, pro-choice advocates concerns include contraception, sterilization, and certain procedures for handling pregnancy emergencies. These services, along with abortion are forbidden under The Ethical and Religious Directives set by the U.S. Conference of Catholic Bishops.
VARIA / THE HUMAN LIFE REVIEW / 7-28-2022
At the University of Michigan, dozens of medical students walked out of the school's White Coat Ceremony protesting pro-life Dr. Kristin Collier, director of the schools Health, Spirituality, and Religion program who is "enormously popular" with patient ratings. The speech did not mention abortion. At The Hill, Jonathan Turley writes that what happened to Dr. Collier is part of a larger trend of abortion supporters silencing pro-life advocates to avoid looking more closely at the issue. "It is not enough to be pro-choice," he writes. "Now you must be anti-pro-life." The First Amendment may be bypassed because there is some larger social obligation to silence people with pro-life views.
VARIA / 7-30-2022
The Biden Administration proposed a new rule that revises section 1557 of The Affordable Care Act to add "sexual orientation and gender identity" and "reproductive health care services" including "pregnancy termination" to existing "protections against discrimination on the basis of sex."
NOTICIAS DE VIDA PARA JULIO 2022

EL BUCLE DEL FIN DE SEMANA DEL VOTO CATÓLICO / 7-2-2022
Héroes del mes:

• El juez Samuel Alito declaró: "Roe estuvo terriblemente equivocado desde el principio. Su razonamiento fue excepcionalmente débil y la decisión ha tenido consecuencias perjudiciales. Es hora de hacer caso a la Constitución y devolver el tema del aborto a los representantes electos del pueblo".
• El gobernador Doug Ducey de Arizona instó a la legislatura a reformar la financiación de las escuelas mediante la aprobación de un proyecto de ley de financiación universal de opciones escolares porque las familias católicas que asisten a escuelas católicas pagan la educación dos veces, una en impuestos y otra en matrícula. Es el primer estado de la unión en hacerlo.
• Obispo Robert j. McManus de Worcester por desafiar a la Jesuit Nativity School of Worcester por exhibir una bandera de Black Lives Matter a pesar del objetivo declarado de "perturbar la estructura de la familia nuclear" y el apoyo al movimiento LGBQT que se opone radicalmente a las enseñanzas de la Iglesia sobre la sexualidad humana. La misa y los sacramentos ya no están permitidos en los terrenos de la escuela.

Ceros del mes:

• El presidente Biden calumnió a la Corte Suprema por su "comportamiento escandaloso" al que calificó de "desestabilizador".
• El secretario del HHS, Xavier Becerra, actualmente está publicitando AbortionFinder.org. Calificó la decisión de la Corte Suprema de "despreciable". También apoya cambios radicales de sexo para niños de primaria.
• La magistrada Sonia Sotomayor se sumó al voto disidente que decía: "Desde el momento de la fecundación, la mujer no tiene derechos de que hablar. Un estado puede obligarla a llevar a término un embarazo, incluso con los mayores costos personales y familiares". El juez también cree que un entrenador escolar no debería tener derecho a la oración voluntaria en público.
• La implacable defensa del aborto de la oradora Nancy Pelosi hizo que el arzobispo de San Francisco, Cordileone, le prohibiera la comunión. En Roma, desafió la orden directa de los arzobispos de recibir la Sagrada Comunión en una misa con el Papa sin mostrar respeto por las enseñanzas y los pastores de la Iglesia.
FR. ARTURO ROJAS / 7-3-2022
Una valla publicitaria provida alquilada por el Comité de Respeto a la Vida del Decanato de Ulster fue dañada por vándalos en Esopus durante la noche del 20 al 21 de junio. El Departamento del Sheriff del Condado de Ulster está investigando. Este no fue el primer incidente en el condado de Ulster ya que el centro Bravo, un centro de apoyo al embarazo en Kingston, fue destrozado semanas antes.
ACCIÓN EN VIVO / 7-06-2022
• El Departamento de Salud y Servicios Humanos de EE. UU. ha creado un nuevo sitio web, ReproductiveRights.gov, cuyo objetivo es orientar a los estadounidenses hacia el aborto y la anticoncepción, incluidos los menores. También dice que la píldora abortiva es segura y está disponible para ser enviada por correo a sus hogares. La Administración Biden ha facilitado que las jóvenes accedan al aborto y que los depredadores encuentren opciones de aborto para sus víctimas.
• La Senadora Elizabeth Warren (D-Mass.) junto con otros senadores a favor del aborto, presentaron una legislación la semana pasada que ataca a los centros de recursos de embarazo pro-vida que han estado ayudando a mujeres embarazadas con opciones que afirman la vida durante décadas, de forma gratuita. En un tuit, señaló: "Después de que Roe se haya ido, es más importante que nunca tomar medidas enérgicas contra los llamados 'centros de embarazo en crisis' que engañan y engañan a las pacientes que buscan servicios de aborto". Los centros informan a las mujeres sobre el desarrollo fetal, los procedimientos y riesgos del aborto, y ofrecen ecografías gratuitas y ayuda material.

SENADORA MICHELLE HINCHEY / 7-8-2022
Durante una Sesión Extraordinaria de la Legislatura Estatal, el senador y sus colegas tomaron medidas para aprobar la Enmienda de Igualdad de Derechos (ERA) que inicia el proceso de consagrar el derecho al aborto, la anticoncepción y la autonomía personal sobre las decisiones de atención médica en la Constitución del Estado de Nueva York. La Senadora y sus colegas también aprobaron un paquete de legislación para proteger el derecho al aborto, incluido su proyecto de ley S.9080B, para proteger a los proveedores de servicios de aborto de responsabilidad si brindan servicios de aborto a pacientes de estados antiaborto.

ESTUDIANTES POR LA VIDA ACCIÓN / 7-10-2022
El representante de EE. UU. Bob Good (R-Va-5) presentó una petición de aprobación de la gestión para obligar a la presidenta Pelosi a permitir una votación sobre la Ley de Vida en la Concepción antes de las elecciones intermedias de 2022. Si se aprueba, reconociendo el hecho científico de que la vida comienza en el momento de la concepción, la ley pondría fin al aborto a pedido en los Estados Unidos y proporcionaría penas severas para los abortistas. El Congreso necesitaría 218 miembros de la Cámara para firmar la Resolución de la Cámara 1167: la Petición de descarga para el proyecto de ley H.R. 1011, la Ley de Vida en la Concepción.

ACCIÓN EN VIVO / 7-11-2022
El presidente Biden ha prometido que Roe se codificará como ley y nombrará jueces a favor del aborto en todo el país para mantener el aborto protegido. El presidente también emitió una orden ejecutiva en respuesta a la decisión de la Corte Suprema de anular Roe v. Wade. Incluye:
• Amplía el acceso a las píldoras abortivas.
• Fortalece el mandato de control de la natalidad de la Administración Obama.
• Organiza abogados pro bono para defender a cualquier persona que enfrente cargos relacionados con el aborto.
• Proporciona tres millones en nuevos fondos para organizaciones de planificación familiar.
• Provee licencia para empleados federales que viajan para abortar.
• Protege el acceso al aborto para las mujeres militares.

ESTUDIANTES POR LA VIDA ACCIÓN / 7-12-2022
La presidenta de la Cámara de Representantes, Nancy Pelosi, está pidiendo que el aborto a pedido se codifique en la ley federal. Ella ha dicho: "Es esencial que protejamos y amplíemos nuestras mayorías proabortistas en la Cámara y el Senado en noviembre para que podamos eliminar el obstruccionismo".

ACCIÓN EN VIVO / 14-7-2022
• La Senadora Elizabeth Warren describió los centros de recursos para el embarazo como "clínicas falsas" y presentó legislación para "reprimir" la supuesta "información errónea" que ella acusa de difundir. He aquí por qué está equivocada:
• Los centros de embarazo salvan vidas
• Los centros de embarazo atienden a millones de personas anualmente
• Los centros de embarazo brindan los recursos necesarios, sin cargo
• Los centros de embarazo ahorran dinero a las comunidades
• Los clientes del centro de embarazo están entusiasmados con los servicios recibidos. Las palabras utilizadas para describir estos centros incluyen paciente, amable, increíble, sin prejuicios, excepcional y profesional.
ALIANZA PERSONALIDAD / 14-7-2022
Las mujeres que visitan la sala de emergencias por complicaciones después de un aborto químico enfrentan mayores riesgos si se les diagnostica erróneamente que han tenido un aborto espontáneo natural. La industria del aborto está poniendo en peligro la vida de las mujeres al alentarlas a no decirles a los médicos de urgencias que tomaron la píldora abortiva, RU-486. De las mujeres con complicaciones de la píldora abortiva mal codificadas que ingresaron en los hospitales, el 86 % necesitó cirugía para extraer los restos de sus hijos muertos. Los pacientes codificados incorrectamente promediaron más de tres ingresos hospitalarios totales durante 30 días a una tasa un 78 % más alta que los ingresos codificados con precisión. La reciente cobertura de los medios de comunicación que afirma que un aborto espontáneo natural y un aborto inducido son lo mismo equivalen a alentar la negligencia médica según la Dra. Ingrid Skop, Directora de Asuntos Médicos del Instituto Charlotte Lozier. Las complicaciones pueden incluir náuseas, vómitos, diarrea, un mayor riesgo de infección que incluye sepsis, hemorragia, daño al útero, enfermedad autoinmune, coágulos de sangre y complicaciones en futuros embarazos.

EL BUCLE DEL FIN DE SEMANA DEL VOTO CATÓLICO / 16/7/22
La Cámara de Representantes aprobó la Ley de Garantía de Acceso al Aborto, que prohibiría a los estados penalizar a quienes viajan fuera del estado para realizarse un aborto. La Cámara también aprobó la Ley de Protección de la Salud de la Mujer, pero ninguna está en camino de ser aprobada por el Senado.

AMÉRICA NECESITA FÁTIMA / 7-18-22
Nuestros dólares de impuestos ayudan a financiar Planned Parenthood. Cada año, Planned Parenthood recibe alrededor de $528 millones en fondos federales que cubren alrededor del 40 % de su presupuesto. El PP abortó 327.653 bebés en un año según su presupuesto anual. Eso es 27,304 por mes, 910 por día, 37 por hora. Un nuevo video del Centro para el Progreso Médico (CMP) contradice afirmaciones anteriores del PP de que la corporación nunca participó en la venta de partes de cuerpos abortados, sino que simplemente las donó y fue compensada por los gastos.

VARIA / LA REVISIÓN DE LA VIDA HUMANA / 19-7-2022
Nueva York es bien conocida como "la capital del aborto de Estados Unidos".
• NY tiene casi 75,000 abortos cada año.
• En 2019, la legislatura de Nueva York aprobó la "Ley de Salud Reproductiva" radical que eliminó todos los límites legales sobre el aborto.
• El Gobernador ha asignado $10 millones a las clínicas de aborto supuestamente por seguridad, y le seguirán otros $15 millones. Ella ha declarado a NY un "refugio seguro" para el aborto.
• El Fiscal General ha pedido a Google que elimine cualquier resultado de búsqueda que muestre centros de embarazo pro-vida
• Actualmente, los progresistas han presentado una propuesta de enmienda a la constitución estatal llamada "Enmienda de igualdad". Da la máxima protección constitucional al aborto. Agrega "sexo, incluido el embarazo y los resultados del embarazo" a la lista de categorías especialmente protegidas en la garantía de los derechos civiles de la constitución del estado de Nueva York. Esto sería tratado como un "derecho fundamental" categorizándolo como casi imposible de regular o restringir. Se aplicaría a "cualquier entidad que actúe en concierto con o en nombre del gobierno, como escuelas religiosas, hospitales o agencias de caridad. Ni la constitución estatal ni la federal ofrecen suficientes protecciones de libertad religiosa para quienes se oponen al aborto.


ACCIÓN EN VIVO / 20-7-2022
El teólogo y filósofo Marcel Guarnizo abordó la confusión de los movimientos pro-vida sobre la decisión de la Corte Suprema de Dobbs v. Jackson Woman's Health Organization que anuló Roe v. Wade. Es claramente una buena noticia y una señal de progreso. No confirió el derecho a la vida a los seres humanos no nacidos, ni impidió que las personas en el poder decidieran arbitrariamente quién vive y muere.
Dobbs no confirió el derecho a la vida a los no nacidos. El Tribunal no confirmó que exista el derecho a la vida o que el niño en el útero tenga los mismos derechos que cualquiera de nosotros después del nacimiento. La decisión de la Corte declaró repetidamente que la autoridad para regular el aborto se devuelve al pueblo ya sus representantes electos.

EL BUCLE DEL FIN DE SEMANA DEL VOTO CATÓLICO / 23-7-2022
El fiscal general republicano de Virginia y otros dieciséis amenazaron con emprender acciones legales contra Google si la empresa Big Tech censura los centros de recursos de embarazo pro-vida en su motor de búsqueda a instancias de los funcionarios del gobierno.

VARIA / NOTICIAS AP / 27-7-2022
El crecimiento de los sistemas de hospitales católicos impacta los servicios. Las diferentes perspectivas sobre estos servicios pueden chocar cuando un sistema hospitalario católico busca adquirir o fusionarse con un sistema no hospital sectario. En los estados donde el aborto seguirá siendo legal, las preocupaciones de los defensores del aborto incluyen la anticoncepción, la esterilización y ciertos procedimientos para manejar las emergencias del embarazo. Estos servicios, junto con el aborto, están prohibidos bajo las Directrices Éticas y Religiosas establecidas por la Conferencia de Obispos Católicos de los Estados Unidos.

VARIA / LA REVISIÓN DE LA VIDA HUMANA / 28-7-2022
En la Universidad de Michigan, docenas de estudiantes de medicina salieron de la Ceremonia de Bata Blanca de la escuela para protestar contra la doctora pro-vida Kristin Collier, directora del programa de Salud, Espiritualidad y Religión de la escuela, quien es "enormemente popular" entre las calificaciones de los pacientes. El discurso no mencionó el aborto. En The Hill, Jonathan Turley escribe que lo que le sucedió al Dr. Collier es parte de una tendencia más amplia de partidarios del aborto que silencian a los defensores de la vida para evitar mirar más de cerca el problema. "No es suficiente estar a favor del aborto", escribe. "Ahora debes ser anti-pro-vida". La Primera Enmienda puede pasarse por alto porque existe una obligación social mayor de silenciar a las personas con puntos de vista pro-vida.

VARIA / 30-7-2022
La Administración Biden propuso una nueva regla que revisa la sección 1557 de la Ley del Cuidado de Salud a Bajo Precio para agregar "orientación sexual e identidad de género" y "servicios de atención de la salud reproductiva", incluida la "interrupción del embarazo" a las "protecciones contra la discriminación por motivos de sexo" existentes.
PUBLIC POLICY WEBSITES FOR FEDERAL
AND NEW YORK STATE LEGISLATION
WE CAN STAY INFORMED AND REACT TO SPECIFIC LEGISLATION
NEW YORK STATE ….
NYSCATHOLIC.ORG

FOR: NEW YORK STATE CATHOLIC CONFERENCE
@ 518-434-6195 /NYS-CATHOLIC-CONFERENCE-ACTION-CENTER
NYSRIGHTTOLIFE.ORG FOR: NEW YORK STATE RIGHT TO LIFE @ 518-434-1293
--------------------------------------------------------------------------------------------------------------------------------------------------------------
NATIONAL….
FEDERALLEGISLATION@NRLC.ORG FOR: NATIONAL RIGHT TO LIFE PROVIDING YOUR REPRESENTATIVES VOTING RECORD ON LIFE ISSUES IN CONGRESS @ 202-626-8820
WWW.NCHLA.ORG/ACTION.ASP

FOR: NATIONAL COMMITTEE FOR A HUMAN LIFE AMENDMENT @ 202-393-0703
WWW.PROLIFEALLIANCE.COM

FOR: NATIONAL PRO LIFE ALLIANCE @ 703-321-9200
WWW.ARCHNY.ORG/ FOR: PASTORAL / PUBLIC-POLICY FROM THE ARCHDIOCESE OF NEW YORK PUBLIC POLICY OFFICE @ 646-794-2807
WWW.CATHOLICVOTE.ORG

FOR: CURRENT ISSUES FOR CATHOLIC VOTERS
WWW.PROLIFELI.ORG FOR: LONG ISLAND COALITION FOR LIFE PROVIDES CURRENT INFORMATION ON FEDERAL AND STATE LEGISLATIVE ISSUES… EXCELLENT LEGISLATIVE INFORMATION
WWW.HLI.ORG FOR: HUMAN LIFE INTERNATIONAL / DEFENDING LIFE AND FAMILY AROUND THE WORLD
Ulster Deanery Respect Life Committee © All rights reserved © 05/19/2022